Houthis release two Americans: Kerry
LAUSANNE MEETING: The US secretary of state spent more than four hours in talks about Syria, with envoys from Saudi Arabia, Iran, Turkey, Qatar, Iraq, Egypt and Jordan
US Secretary of State John Kerry says Yemen's Houthi rebels released two US citizens on Saturday, without identifying the Americans.
Kerry said they were freed as part of complicated diplomatic arrangement that included airlifts for Yemenis wounded by an airstrike this past week carried out by a Saudi-led coalition. Those individuals were taken to Oman for treatment.
Kerry said the US has been working on such efforts for the past few days, alongside a push for a ceasefire in Yemen that would allow the country's internationally recognized government and the Iran-backed Houthis to return to negotiations.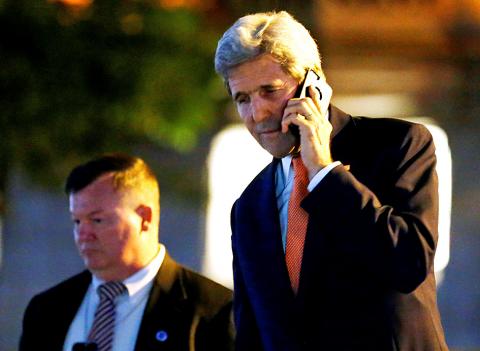 US Secretary of State John Kerry speaks on a smartphone after a round of talks on Syria on Saturday in Lausanne, Switzerland.
Photo: Reuters
The state-run Oman News Agency said two Americans "held" in Yemen were released and flown to the sultanate following negotiations between Omani officials and "Yemeni authorities" in the capital, Sana'a, which is controlled by the Houthis and their allies.
It also did not identify the Americans.
Yemen's war pits the government against the Shiite Houthi rebels and allied army units loyal to a former president.
A Saudi-led coalition has been intervening on the side of the government since March last year.
After peace talks broke down two months ago, the Saudi-led and US-backed coalition stepped up airstrikes and forced the closure of Sana'a's international airport.
Negotiators representing the Houthis and their allies ended up stranded in Oman, but were allowed to return to Yemen under the latest deal.
The Oct. 8 bombing of the packed funeral hall, which killed 140 people and wounded 600, appears to have galvanized diplomatic efforts.
An internal probe by the coalition on Saturday said that the strike was carried out based on "wrong information" and had not been approved by the coalition's top command.
More than 100 people who were wounded in the funeral hall bombing have been allowed medical evacuation to seek treatment outside of Yemen, a Yemeni government official said on condition of anonymity because he was not authorized to speak to the press.
Speaking to reporters in Switzerland, where he was attending talks on Syria, Kerry said a plane flew the Houthi delegation back to Yemen from the Omani capital, Muscat, and returned with people wounded in the funeral hall strike.
"This is something we've been working on for the last days," he said.
He said the effort "also secured the release of two American citizens from the Houthis. Their names are not being released."
Kerry said the US was "very pleased" with their release and was working to resolve other hostage situations in Yemen and elsewhere.
Kerry said he had spoken with the UN envoy to Yemen as well as the Saudis, and that he was "continuing to work very hard to get a framework in Yemen that creates a dynamic that allows to get back to the table."
"It remains a top priority for us to try to end the violence and get to the table as soon as possible," Kerry said.
US Department of State spokesman Mark Toner later issued a statement saying the US was "deeply grateful" to Oman's Sultan Qaboos bin Said for his assistance in securing the release of the Americans.
"We recognize the humanitarian gesture by the Houthis in releasing these US citizens. We call for the immediate and unconditional release of any other US citizens who may still be held," it said.
Kerry was due to fly to London yesterday to brief Washington's European allies after "brainstorming" talks in Lausanne on the Syrian conflict with top envoys from Saudi Arabia, Iran, Turkey, Qatar, Iraq, Egypt and Jordan.
The four-and-a-half-hour meeting made only piecemeal headway on creating a new, multilateral track for ending the country's grinding war.
Ministers put a brave face on the Lausanne meeting, which Kerry said was "exactly what we wanted" — a statement that testified mostly to low expectations.
The main result was pledges to resume contact today.
"Nobody wants to do this in a sloppy way," Kerry said.
He said the discussion was driven by the "urgency of Aleppo, the urgency of trying to find something that works other than military action."
Ministers offered suggestions that "really might be able to shape some different approaches," he said, without elaborating.
No official news conference or joint statement followed Saturday's meeting
Kerry insisted the new, leaner contact group had come up with some plausible ideas that would be fleshed out in the coming days and might lead to a new, stronger ceasefire.
"The way it wrapped up was to have several ideas that need to be quickly followed up," he said.
Comments will be moderated. Keep comments relevant to the article. Remarks containing abusive and obscene language, personal attacks of any kind or promotion will be removed and the user banned. Final decision will be at the discretion of the Taipei Times.