Obama-era surveillance worse than Stasi: Stone
US film director Oliver Stone on Thursday accused the administration of US President Barack Obama of implementing a surveillance system worse than that of the former East German Ministry for State Security, or Stasi, secret police.
Speaking at the San Sebastian film festival in northern Spain, where he presented his film Snowden, Stone said that many in the US had grown disillusioned with a president they once saw as "a man of great integrity."
"On the contrary, Obama has doubled down on the [former US president George W.] Bush administration policies," said Stone, whose latest movie is a biographical political thriller about Edward Snowden, a former US National Security Agency contractor who revealed a vast US surveillance program in 2013.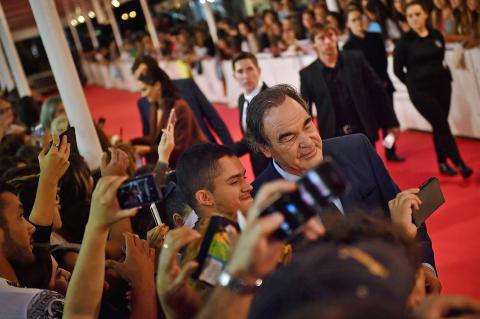 US film director Oliver Stone, right, poses for a selfie with a fan as he walks on the red carpet at the San Sebastian Film Festival in Spain on Thursday.
Photo: AP
Obama "has created ... the most massive global security surveillance state that's ever been seen, way beyond East Germany's Stasi, way beyond that," Stone said.
"In the name of one thing — terrorism — to change all the rules is not a marginal response, it's an extreme response," he told reporters.
"Let's beware of fascists and tyrants who tell us: 'We are going to protect you.' I don't want that," he said.
This is far from the first time that Stone has dabbled in politics, having directed Platoon about the Vietnam War, JFK and Nixon about former US presidents among a host of other films.
He insisted "there was no agenda" behind the release of his latest movie just weeks ahead of US elections, but said he hoped Obama would pardon Snowden, who lives in Russia after fleeing the US.
Actor Joseph Gordon-Levitt, who plays Snowden and met with him to prepare for the role, said the former contractor "was embarrassed" that a film had been made about him.
"He's a private person, he felt awkward about it," Gordon-Levitt said.
The San Sebastian film festival, which finishes today, is the highest-profile film event in the Spanish-speaking world.
Comments will be moderated. Keep comments relevant to the article. Remarks containing abusive and obscene language, personal attacks of any kind or promotion will be removed and the user banned. Final decision will be at the discretion of the Taipei Times.