Nauru support workers to depart before Christmas
The company contracted to provide support for refugees and asylum seekers in Nauru will leave the island before Christmas, after deciding it would not retender for the contract.
According to sources in Nauru, representatives of Connect Settlement Services informed all employees — including Nauruans and expatriate staff — and refugees at a meeting yesterday.
A company spokesman confirmed that it would leave Nauru and would not tender for any further contracts, but declined to comment further.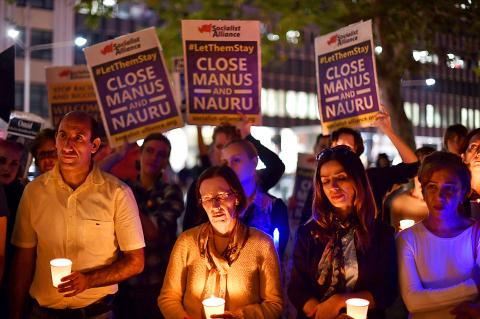 A woman in Sydney on April 30 holds a candle at a vigil advocating the closure of Australian government immigration facilities in Nauru and Papua New Guinea.
Photo: AFP
It is understood that the employees were told the services required on Nauru were beyond the capabilities of a settlement agency.
The agency is believed to have consistently raised concerns about insufficient mental healthcare and child protection services in the Pacific Island nation.
Some senior company executives are believed to have flown in for the meeting.
It was not known who will take over on Dec. 7, when the contract ends. The organization took over after Save the Children left early last year.
Connect Settlement Services is the latest in a string of offshore processing contractors to withdraw from the Australian-run program.
Ferrovial, a Spanish firm that owns the detention centers' major contractor, Broadspectrum, in April announced that it would abandon offshore detention when its contract ends in October next year.
It had intended to leave Nauru and Manus in February next year, but the Australian government unilaterally exercised an option to extend its term by eight months.
Broadspectrum was forced to change its name from Transfield Services in September last year after the owners of its parent company withdrew permission for it use the Transfield name, saying they wanted to distance themselves from offshore detention.
Broadspectrum was then sold to Ferrovial at a significant discount.
Earlier this month Wilson Security announced it would also leave offshore detention "in line with Broadspectrum's future intentions ... and will not tender for any further offshore detention services."
Last week an report from the Australian National Audit Office said that the Australian Department of Immigration and Border Protection had wasted millions of taxpayer dollars on offshore detention because it failed to comply with Commonwealth procurement standards.
The report identified "serious and persistent deficiencies" in the department's management of the contracts, including "significant skill and capability gaps" among staff and "persistent shortcomings" in areas ranging from recordkeeping to the ability to assess value for money.
"Procurement is core business for Commonwealth entities and the deficiencies have resulted in higher than necessary expense for taxpayers and significant reputational risks for the Australian government and [the department]," it said.
Shen Narayanasamy, human rights director at GetUp and director of No Business in Abuse, said the Australian government now had no major entity publicly willing to operate its offshore detention camps, or resettlement programs in Papua New Guinea and Nauru.
"The global business world has spoken: the reputational, financial and legal risks facing any entity involved in the abusive offshore regime are simply too great. Despite the estimate of [A]$5.6 billion [US$4.23 billion] in Australian taxpayers' funds to be spent propping up this regime, no company wants a bar of it."
Narayanasamy said that the government's offshore detention policy had failed and all of the people held on the islands must now be brought to Australia to be properly processed.
"The camps are officially in chaos. The government is throwing billions of dollars at this problem, but it doesn't make it go away," Narayanasamy said.
Nauru and the offshore detention center on Papua New Guinea's Manus Island have been plagued by controversy, as well as allegations and instances of assault, abuse, trauma and mental illness.
The UN, other national governments, numerous international human-rights bodies and dozens of doctors and staff members from inside the camps have condemned the offshore processing regime and called for the Australian government to end the practice.
On Thursday last week Australian Minister of Immigration Peter Dutton told a Canberra-based think tank that the offshore processing relationship with Nauru would last "for decades."
He acknowledged problems with the camps, but defended the system and again criticized asylum-seeker advocates.
"Our detractors do no service to anyone by trading in false hope and speaking in disingenuous terms," Dutton said. "Their entreaties to a different approach offer nothing but a holiday from history and ignore the fundamental reality that secure borders require policies that are tough and fair."
"If they are not tough, they will not be fair to those desperate people waiting in camps," he said. "And they will not be morally fair to those who will again be lured to the murky depths by the siren call of people smugglers."
Comments will be moderated. Keep comments relevant to the article. Remarks containing abusive and obscene language, personal attacks of any kind or promotion will be removed and the user banned. Final decision will be at the discretion of the Taipei Times.