'What is Aleppo?' US' Gary Johnson asks
This was not how Libertarian US presidential candidate Gary Johnson hoped to finally crack the headlines — mocked mercilessly on Twitter for asking an interviewer: "What is Aleppo?" in response to a question about the ravaged Syrian city.
However, the exchange on Thursday morning instantly thrust the former New Mexico governor under a global spotlight, with #WhatIsAleppo a trending hashtag and a red-faced Johnson scrambling to fend off suggestions he is a foreign-policy amateur.
"This morning, I began my day by setting aside any doubt that I'm human," the Libertarian candidate said in a statement. "Yes, I understand the dynamics of the Syrian conflict — I talk about them every day. But hit with 'What about Aleppo?' I immediately was thinking about an acronym, not the Syrian conflict. I blanked."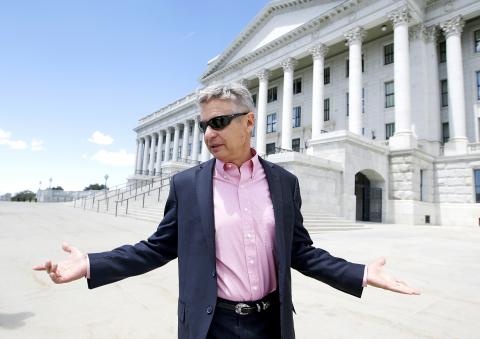 Libertarian US presidential candidate Gary Johnson leaves the Utah State Capitol in Salt Lake City on May 18.
Photo: AP
When MSNBC journalist Mike Barnicle asked him what he would do about the crisis in the devastated Syrian city, Johnson said: "What is Aleppo?'"
"You're kidding me," Barnicle said.
"Aleppo is in Syria," Barnicle explained to Johnson, in seeming disbelief. "It's the epicenter of the refugee crisis."
On Twitter, the verdict was instant and clear, with a deluge of posts ranging from sarcasm to disbelief.
"You hear that? That's the sound of Gary Johnson's campaign coming to a crashing halt," one poster said.
The notion that Johnson was thinking of an acronym drew further online ridicule — perhaps the "Alaskan Logging Expansion & Ping Pong Occupation?" another poster said.
However, many on social media also voiced dismay, posting poignant pictures of years of bloodshed in the Syrian city under the phrase: "This is Aleppo."
Johnson has been striving to reach the 15 percent mark needed for inclusion in the presidential debates, starting Sept. 26, alongside Clinton and Trump.
The blunder raised serious questions about his grasp of foreign policy, coming at a time of growing speculation that the Libertarian candidate, who is on the ballot in all 50 states, might play a decisive role if the Nov. 8 election is close.
A Washington Post-Survey Monkey poll released on Wednesday found that Johnson, a former Republican who is often excluded from presidential polling, is supported by an average of 13 percent across all states.
While his party generally plays on the fringes of US politics — as the Libertarian candidate in 2012, Johnson took only 1 percent of the popular vote — he is expected to be the choice of at least some Americans disillusioned by the historically unpopular major party candidates.
After stumbling on MSNBC, Johnson said that "with regard to Syria, I do think it's a mess... I think that the only way that we deal with Syria is to join hands with Russia to diplomatically bring that at an end."
Aleppo, once Syria's economic powerhouse, has been devastated by the war that began in the country in March 2011.
It is not clear how closely the ordinary US voter is following events in Syria.
Comments will be moderated. Keep comments relevant to the article. Remarks containing abusive and obscene language, personal attacks of any kind or promotion will be removed and the user banned. Final decision will be at the discretion of the Taipei Times.