Division mars Democrats' rally
'BERNIE OR BUST' On Sunday, throngs of people marched along a main thoroughfare of the city to show their support for US Senator Bernie Sanders
The Democratic National Convention was scheduled to begin in Philadelphia yesterday with much bigger demonstrations than the Republican convention and much higher temperatures, as the region copes with an oppressive heat wave.
In one of the largest rallies planned for the day, a pro-US Senator Bernie Sanders group was expected to walk across the Ben Franklin Bridge, which connects Camden, New Jersey, and Philadelphia.
The demonstrations, largely driven by Sanders supporters, have been peaceful, so far.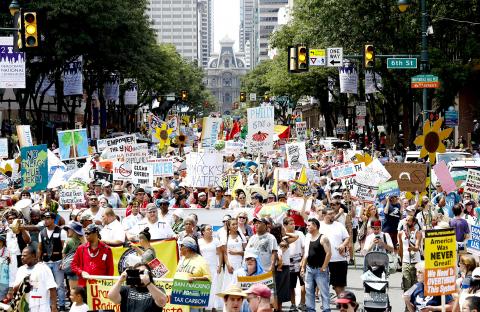 Protesters march during a demonstration on Sunday in Philadelphia, Pennsylvania.
Photo: AP
On Sunday, throngs of people marched along a main thoroughfare of the city to show their support for Sanders and their disdain for Presumptive Democratic US presidential candidate Hillary Rodham Clinton.
They chanted "Hell no, DNC, we won't vote for Hillary" and "This is what democracy looks like."
Although planned for months, the marches came as fractures appeared in the party that had been trying to display a show of unity in recent weeks.
Debbie Wasserman Schultz on Sunday resigned as Democratic Party chair over an e-mail suggesting the convention had played favorites for Clinton during the primary.
The Democrats had been trying to avoid the divide that was apparent in Cleveland during the Republican National Convention last week. However, the hacked e-mails, published by Wikileaks, further fired up Sanders supporters, who have long accused the party of favoring Clinton despite officially being neutral.
Sanders had called for Wasserman Schultz's resignation, and on Sunday night said she made the right decision for the party's future by resigning.
Philadelphia police called Sunday's protests peaceful, and said they were pleased with how things were going so far.
Earlier in the day, thousands of clean energy activists jammed a downtown street in their mile-long march from City Hall to Independence Hall, near the Liberty Bell.
They held anti-fracking and anti-pipeline signs, some with illustrations such as a train surrounded by a fireball and the words "No Exploding Trains."
Others held "Bernie or Bust" signs.
The heat wave is not going away any time soon.
It was set to hit a peak yesterday, with temperatures in the city possibly reaching 38°C, but feeling like 42°C, the US National Weather Service said.
More than 5,000 delegates are among the 50,000 people set to attend the four-day convention, which is expected to culminate with Clinton being named the official Democratic nominee for president.
Comments will be moderated. Keep comments relevant to the article. Remarks containing abusive and obscene language, personal attacks of any kind or promotion will be removed and the user banned. Final decision will be at the discretion of the Taipei Times.