Nepal's PM quits ahead of no-confidence vote
Nepalese Prime Minister Khagda Prasad Sharma Oli resigned on Sunday, bringing an abrupt end to a nine-month-old government that struggled with the task of post-earthquake reconstruction and at times took a defiant stance against its large neighbor, India.
Oli resigned moments before the Nepali parliament was expected to pass a no-confidence motion.
After defending himself against sharp criticism from opposition parties, he said he would step down "to pave the way to elect a new prime minister in a changed context."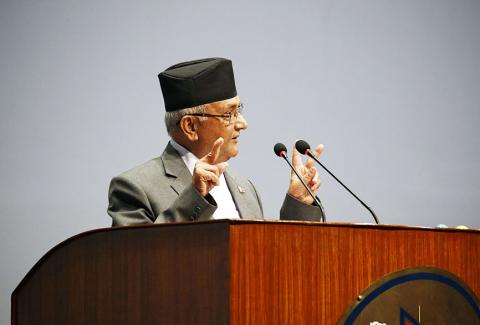 Nepalese Prime Minister Khadga Prasad Sharma Oli informs parliament of his resignation in Kathmandu, Nepal, on Sunday.
Photo: AP
Oli's government was Nepal's eighth in the past 10 years, and its end ushered in a new round of political turmoil.
Two large political groups pushing for Oli's removal, the Nepali Congress party and the Communist Party of Nepal (Maoist Center), complained that he had failed to resolve disputes over the nation's new constitution, to jump-start the stalled reconstruction process or to resolve cases dating back to the government's decade-long conflict with Maoist rebels, which ended in 2006.
Oli's supporters attributed his downfall to geopolitics.
Oli made it a priority to build Nepal's ties with China, rather than with India, signing trade and energy supply treaties in Beijing in March.
Gopal Khanal, one of his foreign policy advisers, said the two countries were poised to announce new rail links during a visit to Nepal this year by Chinese President Xi Jinping (習近平).
Meanwhile, relations with India have deteriorated. In May, Oli's Cabinet recalled Nepalese Ambassador to India Deep Kumar Upadhyay, accusing him of anti-government activities, and refused to approve a visit to India by Nepalese President Bidhya Devi Bhandari.
The Nepali Congress party and the Maoists have agreed to share power in a rotation. Maoist party leader Pushpa Kamal Dahal is to succeed Oli as prime minister and then, in nine months, pass the reins to the Nepalese Congress leader.
Oli was elected in October last year during a flare of anger at India. The Madhesi, an ethnic group in the south with close cultural ties to India, were demanding revisions to the new constitution. India, which has long monopolized fuel supplies to Nepal, was widely blamed for preventing fuel tankers from crossing the border, leading to crippling fuel shortages.
Oli's tone toward India never softened. While his government did amend the constitution, it refused one of the key Madhesi demands: to redraw the nation's provinces. Madhesi activists pressed for the no-confidence motion against Oli.
Before resigning in parliament on Sunday, Oli expressed concern that projects he had begun with Chinese support, such as a railroad connecting Tibet to central Nepal, would now founder.
Comments will be moderated. Keep comments relevant to the article. Remarks containing abusive and obscene language, personal attacks of any kind or promotion will be removed and the user banned. Final decision will be at the discretion of the Taipei Times.