ANALYSIS: Clinton dodges FBI bullet on e-mail prosecution
US presumptive Democratic presidential candidate Hillary Rodham Clinton can breathe a sigh of relief. She has avoided criminal charges that could have ended her campaign, but a brutal FBI rebuke over her e-mails could still complicate an increasingly tight race against her presumptive Republican rival, Donald Trump.
The FBI's decision against prosecuting Clinton for using a private e-mail server while US secretary of state has robbed Republicans of the election game-changer they had so desperately craved.
"I don't think it was complete exoneration, but it was probably the best they could have hoped for," said Jeanne Zaino, political science professor at Iona College in New York. "They should be counting their lucky stars that things weren't worse."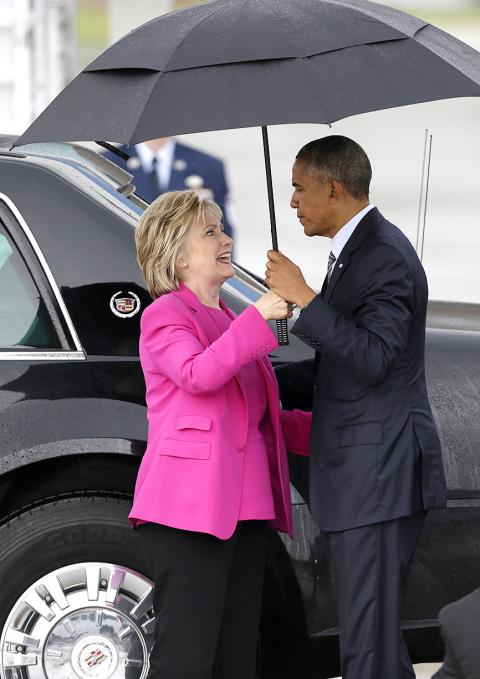 US presumptive Democratic presidential candidate Hillary Rodham Clinton says goodbye to US President Barack Obama after a campaign stop in Charlotte, North Carolina, on Tuesday.
Photo: AP
Clinton was questioned by agents over the US Independence Day holiday weekend and the FBI announced its findings on Tuesday, when many ordinary voters were still on vacation or outside relaxing, not inside glued to the news.
However, if Clinton dodged a bullet, her public dressing down from FBI Director James Comey could yet foretell an even tougher war of political attrition all the way to the ballot box in November, analysts said.
Comey said 110 e-mails contained classified information — Clinton said there were none whose content was classified at the time they were written — portrayed the politician as "extremely careless" with sensitive information and said her e-mails could have been hacked: all bad news.
"That will resonate with many people," Zaino said. "Is it going to derail her campaign? No. Is it going to have a long-term impact? Probably not."
"The damage is going to be if the Republicans are able to use this to rally the troops and improve turnout and in some way rob the Democrats of some support in the Senate and at the top of the ticket," she said.
The silver lining for Clinton, analysts agree, is that she is running against a man even more disliked, with even more questionable judgement and representing a party so far unable to unite behind him.
"They [Republicans] would have to make the case that Hillary Clinton is so dangerous that people who might not otherwise turn out to vote against her would turn out and vote for Donald Trump. That's not easy to do," Zaino said.
Trump seized on the findings to brand Clinton a liar and charge that the system was rigged, drawing a much-mocked parallel with disgraced former CIA director David Petraeus, who pled guilty to mishandling classified information.
The Republican billionaire, who has never held public office, languishes nearly 5 percentage points behind Clinton in a poll average produced by Real Clear Politics.
"She's very lucky she's in a race with a man with higher negatives," political analyst Stuart Rothenberg said. "She's bad, he's worse."
Ever since the e-mail scandal emerged last year, critics have interpreted it as further evidence of her being dishonest, while supporters insist she did nothing illegal and was subject to a Republican witch hunt.
"It doesn't really change the race too much," Rothenberg said. "Unless she was indicted, unless there was a Justice Department that believed she engaged in criminal behavior, really all the damage has already been done."
Were she up against a Republican like charismatic US House of Representatives Speaker Paul Ryan, unflappable moderate Ohio Governor John Kasich or even 2012 Republican nominee Mitt Romney, who twice failed to beat US President Barack Obama, the fallout might be worse, experts said.
The Clinton campaign quickly issued a statement saying it was "pleased" the matter was closed and Clinton spent Tuesday afternoon dressed in hot pink and beaming on stage in a gleefully awaited first campaign appearance with Obama.
Neither mentioned the FBI and the president offered a ringing endorsement of his former rival, saying no man or woman had ever been more qualified.
Comments will be moderated. Keep comments relevant to the article. Remarks containing abusive and obscene language, personal attacks of any kind or promotion will be removed and the user banned. Final decision will be at the discretion of the Taipei Times.