Rescued sea turtles arrive in California for rehab
Two endangered olive ridley sea turtles found stranded and comatose along the northern US Oregon coast in December last year were flown by the US Coast Guard on Wednesday to San Diego, California, to begin long-term rehabilitative care at SeaWorld.
The two female turtles, named Thunder and Lightning because they were each stranded after major winter storms, began their recovery at the Oregon Coast Aquarium, and wildlife biologists hope to eventually return them to the wild, SeaWorld spokeswoman Kelly Terry said.
They were flown aboard a C-130 Hercules cargo plane from Oregon to the US Naval Base Coronado, San Diego, then transported by truck from there to SeaWorld's animal rescue center nearby to undergo further treatment and rehabilitation.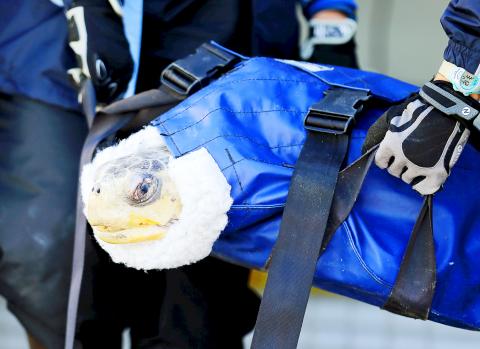 One of two rescued endangered olive ridley sea turtles arrives at the SeaWorld animal rescue center in San Diego, California, after being flown from the Oregon coast by the US Coast Guard on Wednesday.
Photo: Reuters
Thunder, measuring 60cm long and weighing about 36kg, was mainly suffering from severe hypothermia when found near Pacific City, Oregon. Lightning, also 60cm long and weighing about 23kg, was suffering from hypothermia and several other problems, including injuries to both of her eyes, when she was rescued several days earlier, Terry said.
They joined a previously rescued olive ridley turtle, named Solstice, who was rescued more than a year ago in Oregon and turned over to SeaWorld for rehabilitation, Terry said.
"Turtle rehab is a long process," she said.
Thunder and Lightning arrived bundled in special packaging, and after being weighed, they were placed together in their own heated saltwater pool, complete with a small underwater shelter at the bottom of the concrete enclosure, and were allowed to swim about their new home.
Olive ridleys, listed as an endangered species, range throughout the Pacific Ocean, but they occur mostly in tropical and subtropical regions generally venturing no farther north than Southern California along the US Pacific Coast.
They have been known to occur in more temperate regions, including the relatively cold waters off Oregon and Washington state, but Terry said it was not known what brought Thunder and Lightning to the Pacific Northwest.
Comments will be moderated. Keep comments relevant to the article. Remarks containing abusive and obscene language, personal attacks of any kind or promotion will be removed and the user banned. Final decision will be at the discretion of the Taipei Times.