Brussels tries to recuperate after terrorist attacks
"Brussels I love you" read a message written in chalk on a historic city square, a place for raucous celebration that has become a scene of grief after Belgium's worst terror attack.
Wrapped in the national flag and carrying candles and flowers, Belgians flocked in their hundreds to the Place de la Bourse in the ancient heart of the city to grieve as the country held three days of national mourning.
The Belgian capital — home to the EU headquarters — was left reeling on Tuesday after 35 people were killed in bombings at Zaventem Airport and on a metro train.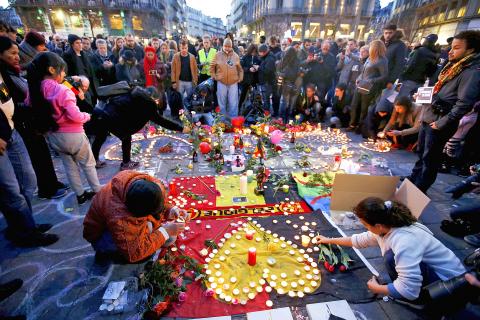 People on Tuesday gather around a memorial in Brussels following terrorist attacks.
Photo: Reuters
A lone musician played a cello as a mourner waved a banner reading "United against hate" and another message scrawled on the ground said: "Christians + Muslims + Jews = humanity."
Belgian Prime Minister Charles Michel joined the mourners after dark fell and European Commission President Jean-Claude Juncker also paid homage to the dead.
"Tonight I am Belgian," he said, full of emotion.
Landmarks around the world, including the Eiffel Tower in Paris to Berlin's Brandenburg Gate, were lit up in the black, yellow and red of Belgium's national flag in solidarity.
In London, pictures on social media showed the O2 Arena lit up by mobile phone screens as pop star Adele asked fans to "take a moment for Brussels."
Near the Place de La Bourse square in Brussels, the usually bustling pedestrian streets of the city center were nearly empty, with many shops closed.
All day, the sound of police and ambulance sirens echoed through the streets, with roads cut off by heavily armed soldiers and police officers.
As night fell some signs of normality returned, with trains running from the main station and some roads opening up.
However, on the square, where the country traditionally celebrates the victories of its "Red Devils" soccer team, the crowd continued to swell.
As more and more flowers were placed on the square, the crowd joined together to sing John Lennon's Imagine.
Mourners waved banners reading "Brussels is beautiful" and "Je Suis Bruxelles" ("I am Brussels") — a reference to the slogan that became a rallying cry after the attacks on Charlie Hebdo magazine in Paris last year.
Comments will be moderated. Keep comments relevant to the article. Remarks containing abusive and obscene language, personal attacks of any kind or promotion will be removed and the user banned. Final decision will be at the discretion of the Taipei Times.