Russia, Turkey trade barbs over Syria
TARGET ALEPPO: Moscow accused Ankara of planning a military incursion, while the latter accused it of trying to conceal its crimes. Riyadh offered ground support
Russia on Thursday said it suspected Turkey was preparing a military incursion into Syria, as a Syrian army source said Aleppo would soon be encircled by government forces with Russian air support.
Turkey in turn accused Moscow of trying to divert attention from its own "crimes" in Syria, and said Aleppo was threatened with a "siege of starvation." It said Turkey had the right to take any measures to protect its security.
In another sign of the spreading international ramifications of the five-year-old Syrian war, Saudi Arabia said it was ready to participate in ground operations against Islamic State in Syria if the US-led alliance decided to launch them.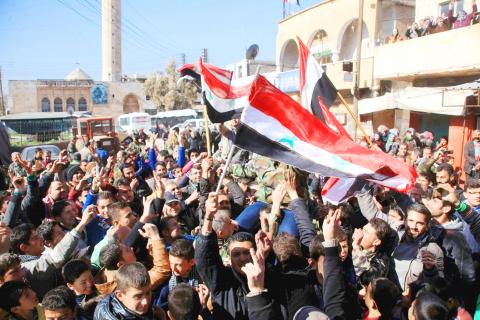 Residents of Nubul and al-Zahraa, along with forces loyal to Syrian President Bashar al-Assad, celebrate in Nubul in the northern Aleppo countryside in Syria after the siege of their towns was broken, in a handout picture provided by the Syrian Arab News Agency on Thursday.
Photo: Reuters
The US welcomed Riyahd's offer, which together with any Turkish incursion would further embroil regional powers in a conflict that pitches Sunni-backed fighters against Damascus and forces backed by Moscow and Shiite Iran.
The UN on Wednesday suspended the first peace talks in two years, halting an effort that seemed doomed from the start as the war raged unabated. However, Washington on Thursday said it was hopeful they would resume by the end of the month, and Russia said it expected that no later than Feb. 25.
Donors convened in London to tackle the refugee crisis created by the conflict. British Prime Minister David Cameron said they raised US$11 billion for Syrian humanitarian needs over the next four years.
Turkey said at the conference that up to 70,000 refugees from Aleppo were moving toward the border to escape air strikes.
Footage online showed hundreds of people, mostly women, children and the elderly, marching toward Turkey's Onucpinar border gate, carrying carpets, blankets and food on their backs.
Four months of Russian airstrikes have tipped the momentum of the war in Syrian President Bashar al-Assad's way. With Moscow's help and allies, including Lebanon's Hezbollah and Iranian fighters, the Syrian army is regaining areas on key fronts in the west.
Russia's defense ministry said it had registered "a growing number of signs of hidden preparation of the Turkish Armed Forces for active actions on the territory of Syria."
Any Turkish incursion would risk direct confrontation between Russia and a NATO member.
"The Russians are trying to hide their crimes in Syria," a senior official in Turkish Prime Minister Ahmet Davutoglu's office said.
"They are simply diverting attention from their attacks on civilians as a country already invading Syria. Turkey has all the rights to take any measures to protect its own security," the official said.
In London, Davutoglu said the "humanitarian logistic corridor" between Turkey and Aleppo was "under the invasion of these foreign fighters and regime forces [with] the support of Russian warplanes."
"What they want to do in Aleppo today is exactly what they did in Madaya before, a siege of starvation," he added.
Davutoglu pledged that whatever the cost, Turkey's door would remain open to all Syrians. It has already taken in more than 2.5 million.
Relations between Russia and Turkey have deteriorated badly since Turkey shot down a Russian warplane near the Syrian border in November.
US Department of State spokesman John Kirby declined to comment on Turkish military operations on the Syrian border, saying only: "They are working to secure that stretch of border, but I'm not going to comment on specific military activities of another nation inside their borders."
Aleppo, just 50km south of the Turkish border, is a major strategic prize in the war and is currently divided into areas of government and opposition control. Many of the rebels fighting in and around the city have close ties to Turkey.
This week, three days of intensive Russian bombing helped the army and allied fighters to sever a major supply line to the northwest of the city, in the process reaching two Shiite towns loyal to the government for the first time in three-and-a-half years.
The army source said operations to fully encircle Aleppo from the west would be launched soon.
A senior, non-Syrian security source close to Damascus said Iranian fighters had played a crucial role.
"Qassem Soleimani is there in the same area," said the source, referring to the head of the Iranian Revolutionary Guards' elite Quds force responsible for overseas operations.
Residents thanked al-Assad, Iran and Hezbollah in celebratory scenes from the Shiite towns of Nubul and al-Zahraa broadcast by Hezbollah's al-Manar TV.
Meanwhile, the powerful Kurdish YPG militia, which controls wide areas of northern Syria, added to the pressure on insurgents, capturing two villages near Nubul and al-Zahraa, the Syrian Observatory for Human Rights reported.
The Syrian Kurds have consistently denied opposition claims that they cooperate with Damascus.
In the south, the Syrian army and its allies recaptured a town near the city of Daraa, building on gains made last week and also backed by intensive aerial bombardment.
The seizure of Ataman would allow the government to reassert control over most parts of Daraa, near the Jordanian border.
Comments will be moderated. Keep comments relevant to the article. Remarks containing abusive and obscene language, personal attacks of any kind or promotion will be removed and the user banned. Final decision will be at the discretion of the Taipei Times.