UN envoy in Tripoli for talks on unification
ENDING CHAOS: The two rival administrations signed a deal last month, agreeing to come together under one entity in the internationally recognized capital of Tripoli
The UN's envoy for Libya held talks in Tripoli on Friday, seeking to encourage the administration there to commit to a national unity government that would end years of bloodshed.
Martin Kobler, on a desperate diplomatic push to get Libya's two separate administrations to sign a power-sharing agreement, on Thursday met with representatives of the internationally-recognized government near its headquarters in the east of the country.
"More discussions in Tripoli — I invite all to take responsibility for Libya's future, take responsibility for next generations," Kobler tweeted on Friday after meeting with the head of the rival parliament in Tripoli, Nouri Abusahmein.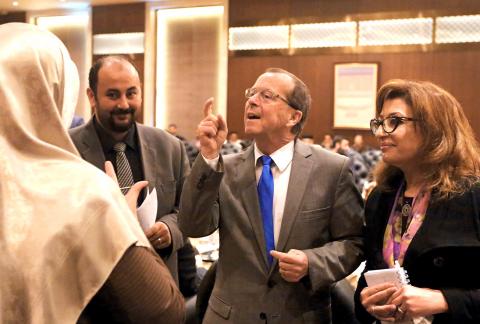 UN envoy to Libya Martin Kobler, second right, speaks with members of Libya's General National Congress in Tripoli on Friday.
Photo: AFP
Libya has been in chaos since the 2011 ouster of longtime dictator Muammar Qaddafi and now has two governments and parliaments.
Militant groups such as the Islamic State have taken advantage of the lawlessness to make gains along the coastline, and the UN estimates that fighting has forced 435,000 people from their homes.
On Dec. 17, under UN guidance, envoys from both sides and a number of independent political figures signed a deal to unify the government.
About 80 of 188 lawmakers from Libya's internationally recognized parliament and 50 of 136 members of the rival Tripoli-based General National Congress signed the deal.
It calls for a 17-member government, headed by businessman Fayez el-Sarraj as premier, based in Tripoli.
Abusahmein asked Kobler to meet a number of leaders in the Tripoli-based administration, including senior military and intelligence officers and judiciary.
"We believe that for any political agreement to be effective on the ground, all parties tasked with implementing it have to be present with us today," he said.
At a press conference in a VIP lounge at Tripoli's Mitiga Airport late Friday, Kobler said that in meetings with both administrations he put forward "five points."
First, "the Libyan political agreement is the basis of all discussions. There is no alternative," he said.
Second, "there should be no parallel initiatives. All initiatives should be based under the umbrella of the United Nations," Kobler added.
The process must be "inclusive," and also be guided by the principle of "the peaceful transfer of power from the old institutions to the new institutions," he said.
Finally, he said, there was "the principle of Libyan ownership. It must be a Libyan agreement and the Libyans must steer the process."
The press conference was cut short by Jamal Zoubia, head of the media department in the Tripoli-based government, who told Kobler that the event was "illegal" as he needed prior permission.
Comments will be moderated. Keep comments relevant to the article. Remarks containing abusive and obscene language, personal attacks of any kind or promotion will be removed and the user banned. Final decision will be at the discretion of the Taipei Times.