Philadelphia becomes first World Heritage City in US
Philadelphia — the birthplace of the US — has been named the nation's first World Heritage City, putting it on par with Jerusalem, Cairo, Paris and other places recognized for their impacts on the course of human events.
The Organization of World Heritage Cities added Philadelphia in a vote on Friday at its biennial conference in Arequipa, Peru.
Philadelphia, the nation's fifth-largest city, qualified because its Independence Hall is a UNESCO World Heritage Site.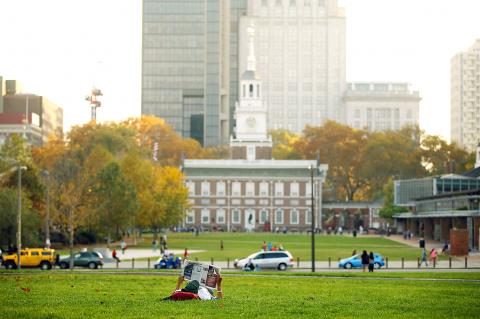 A man reads a newspaper on Friday near Independence Hall in Philadelphia.
Photo: AFP
The Declaration of Independence was signed at Independence Hall in 1776. Four years later, the Articles of Confederation — which united the 13 colonies — were ratified. The US Constitution was debated and signed at Independence Hall in 1787, with former US president George Washington presiding.
"The universal principles of freedom and democracy set forth in these documents are of fundamental importance to American history and have also had a profound impact on lawmakers around the world," UNESCO's Web site said.
The Liberty Bell and the National Constitution Center are nearby, part of the three-block Independence Mall park created in the 1950s at the expense of dozens of colonial-era and early US buildings, including what was left of the home where Washington lived as president.
A consortium of city government and business leaders started campaigning for the honor three years ago at the suggestion of then-University of Pennsylvania Museum of Archaeology and Anthropology director Richard Hodges, who asked simply: "Why isn't Philadelphia a World Heritage City?"
The designation, held by about 260 cities, also reflects Philadelphia's evolution into an economic and educational hub and its resilience — a theme of the organization's conference, Philadelphia Deputy Mayor Alan Greenberger said.
Organization of World Heritage Cities Secretary-General Denis Ricard was particularly taken during his visit last year with how the city has transformed its naval shipyard into a booming industrial park.
Being a world heritage city would create more opportunities for cultural collaboration and exchanges, akin to a grander version of Philadelphia's sister cities program, said John Smith, a lawyer who helped lead the campaign through the non-profit Global Philadelphia Association.
It would also help boost tourism, he said.
"Philadelphia has a lot going for it, but certainly isn't as well recognized as New York or Washington in international parlance," Smith said. "Philadelphia has to start thinking of other ways to establish itself as a bona fide world city."
Philadelphia hosted Pope Francis in September and is set to welcome the Democratic National Convention next summer. It was also the site of the Gold Cup Final, an important soccer match between Jamaica and Mexico.
Philadelphia was already renowned for its rich history and vibrant arts scene, including the Barnes Foundation Museum and the Philadelphia Museum of Art, where Sylvester Stallone ran up the steps in Rocky.
"People for a long time have raised questions about how confident Philadelphians are in themselves," Smith said. "We think this will be a huge boost to the city's ego. Once you get foreign cities and foreign countries to believe in you, it's easier to believe in yourself."
Comments will be moderated. Keep comments relevant to the article. Remarks containing abusive and obscene language, personal attacks of any kind or promotion will be removed and the user banned. Final decision will be at the discretion of the Taipei Times.