Clinton opposes construction of Keystone pipeline
Democratic presidential front-runner Hillary Rodham Clinton on Tuesday said she opposes construction of the Keystone XL pipeline, breaking her longstanding silence over the construction of a project assailed by environmentalists as a threat to the climate.
Clinton said she decided to speak out after concluding that the ongoing debate over whether the pipeline should be built had become a distraction to larger efforts to fight climate change, "and unfortunately, from my perspective, one that interferes with our ability to move forward to deal with the other issues. Therefore I oppose it."
The former US secretary of state had previously said she should not take a position on the issue, because she did not want to interfere with US President Barack Obama's administration as it considers whether to allow construction of a pipeline that would transport oil from Canada's tar sands to refineries on the Gulf of Mexico.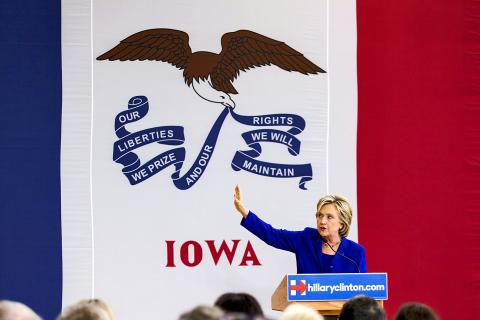 Democratic presidential candidate Hillary Rodham Clinton speaks in the gymnasium of Moulton Elementary School in Des Moines, Iowa, on Tuesday.
Photo: Reuters
The announcement was viewed with disappointment in Canada, where Prime Minister Stephen Harper has said as recently as last month that he was confident the next US president would approve the project.
"This is not a debate between Canada and the US," said Stephen Lecce, a spokesman for Harper. "We know the American people support the project. We will not engage in presidential primary debates."
Less reluctant was Republican presidential candidate Jeb Bush, who said on Twitter that Clinton's decision proves she "favors environmental extremists over US jobs."
Spurred on by environmental activists and liberals who play a key role in the Democratic primaries and vigorously oppose the pipeline project, Clinton had expressed impatience in recent weeks over the Obama administration's drawn-out deliberations. Campaign events in New Hampshire and Maine last week drew activists who held signs that read "I'm Ready for Hillary to say no KXL."
Clinton's main rivals for the Democratic nomination have long opposed the project. Vermont Senator Bernie Sanders, who has surpassed Clinton in some polls in Iowa and New Hampshire, said in a statement he was "glad that [former] secretary Clinton finally has made a decision and I welcome her opposition to the pipeline. Clearly it would be absurd to encourage the extraction and transportation of some of the dirtiest fossil fuel on the planet."
Comments will be moderated. Keep comments relevant to the article. Remarks containing abusive and obscene language, personal attacks of any kind or promotion will be removed and the user banned. Final decision will be at the discretion of the Taipei Times.