Loyalist troops confront Burkinabe junta
The leader of a coup in Burkina Faso yesterday said that he was still in charge despite the passing of a deadline set by loyalist soldiers for his forces to surrender or face attack.
General Gilbert Diendere, who seized power last week, said he was ready to negotiate, but awaited the outcome of a Economic Community of West African States (ECOWAS) summit being held in Nigeria.
"I'm not stalling for time. I'm within the time allotted to me," he told a news conference. "I am still the president of the National Democratic Council [junta]."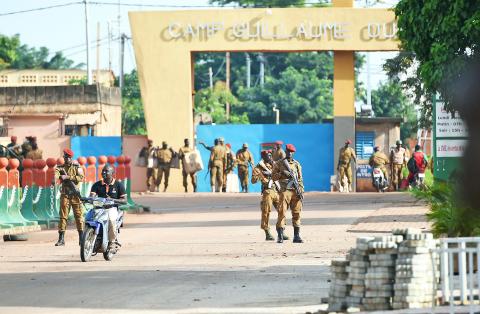 Army troops yesterday stand guard outside Guillaume Ouedraogo military camp in Burkina Faso's capital, Ouagadougou.
Photo: AFP
Few people ventured out onto the streets of the capital as the deadline set for 10am passed. Presidential guard forces loyal to Diendere held the presidential palace, but troops opposing the coup held most other strategic points.
Loyalist troops said they were preparing to attack the Camp Naba Koom base near the presidential palace, although a separate loyalist source said talks had restarted and the aim was to avoid violence.
The coup derailed a transition in Burkina Faso, which had been preparing for an election on Oct. 11. That vote aimed to restore democracy nearly a year after an uprising toppled Burkinabe President Blaise Compaore, who held power for 27 years.
In one apparent olive branch, the coup leaders released interim prime minister Yacouba Isaac Zida, who had been held hostage since the revolt began, his adviser and another loyalist officer said.
Ex-spy chief Diendere and his presidential guard rebelled on Wednesday last week, raiding a Cabinet meeting and detaining the president and other ministers.
"They [the presidential guard] have until 10am to lay down their weapons and surrender at the Camp Sangoule Lamizana," the loyalist officer said, referring to a military barracks west of Ouagadougou.
"The prime minister is free. He has returned to his official residence," said Lieutenant Boris Nadie, Zida's aide-de-camp.
Interim Burkinabe President Michel Kafando, who was taken hostage in the coup and then placed under house arrest, sought protection in the French ambassador's residence in the capital on Monday.
The results of the summit was expected later yesterday.
At issue is a proposal announced on Sunday by ECOWAS mediators for a draft agreement to end the crisis.
Comments will be moderated. Keep comments relevant to the article. Remarks containing abusive and obscene language, personal attacks of any kind or promotion will be removed and the user banned. Final decision will be at the discretion of the Taipei Times.