Three foreigners, Filipina taken from island resort
TARGETED: Police said the attackers who entered the resort late on Monday went straight for the yachts, and a Japanese couple narrowly avoided being taken as well
Unidentified gunmen have abducted a Norwegian resort manager, two Canadians and a Filipino woman from a southern Philippine island, the military and police said yesterday.
The gunmen appeared to have specifically targeted the victims when they entered the Holiday Ocean View Samal Resort before midnight on Monday on the northern tip of Samal Island off Davao, regional military spokesman Captain Alberto Caber said.
"They appeared to target the foreigners. They went straight for the yachts," Regional police spokesman Superintendent Antonio Rivera told the Agence France-Presse. "[But] we still don't have anything. We're blank. No group has taken responsibility and there is no demand for ransom."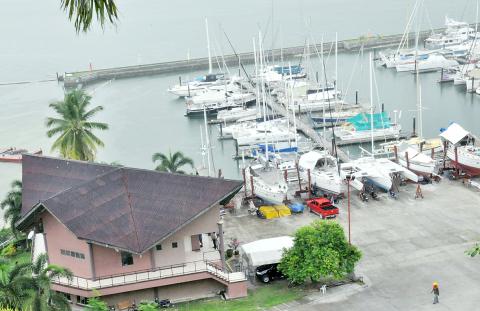 The marina of the Holiday Ocean View Samal Resort, on Samal Island in the southern Philippines, is pictured yesterday. Four people, including three foreigners, were abducted by armed men from the resort before midnight on Monday.
Photo: AP
He said a Japanese couple from one of the yachts was also nearly abducted, but the pair fought back, while some of the more than two dozen guests at the resort jumped into the water to escape.
He said the Japanese couple suffered minor injuries.
Rivera said 11 gunmen in two motorized outriggers were involved in the abduction.
He said the police and military using planes and helicopters were scouring the waters and the shores around the island and other areas in the Davao Gulf, but they appeared to have escaped.
Philippine President Benigno Aquino III, who was at the resort last week for a meeting with political allies, was monitoring developments and authorities were doing their best to find the captives, his spokesman told reporters.
"The investigation is in full swing, simultaneous with pursuit operations," spokesman Herminio Coloma said.
In 2001, Abu Sayyaf militants tried, but failed to seize hostages from the Pearl Farm Beach Resort south of Ocean View amid a ransom-kidnapping spree in the early 2000s in the southern Philippines. Three security men died fighting the attackers.
The Abu Sayyaf, which has about 400 gunmen, was recently declared a terrorist group by a Philippine court and is on Washington's lists of terror organizations.
Police identified the Norwegian as Kjartan Sekkingstad, 56, the resort's marina manager, and Canadians as John Ridsel, 68, and Robert Hall, 50.
Rivera said the Filipino woman is a partner of one of the Canadians.
Samal island is famed for powdery white sand beaches and dive spots, with resorts there charging up to US$500 a night. The area is a popular stop for foreign tourists who sail around the nation's many tropical islands.
Additional reporting by AFP and Reuters
Comments will be moderated. Keep comments relevant to the article. Remarks containing abusive and obscene language, personal attacks of any kind or promotion will be removed and the user banned. Final decision will be at the discretion of the Taipei Times.