'You stink' protests in Beirut postponed
Organizers of the "You stink" protests that have captivated the Lebanese capital postponed demonstrations set for yesterday evening after a night of violent clashes with police during which dozens of protesters and police officers were wounded.
The Lebanese army took up positions in and around downtown Beirut, scene of the protests, stationing armored personnel carriers on street corners.
The protests, sparked by a garbage-collection crisis that has left trash piled in the streets for weeks, have grown into a grassroots movement demanding the resignation of the entire government and an end to the country's dysfunctional sectarian system.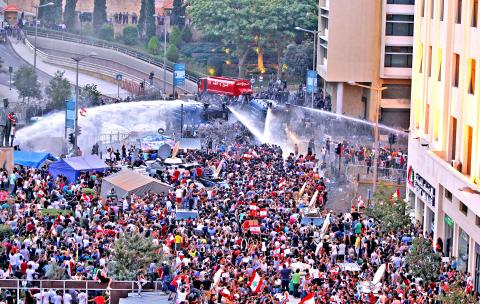 Protesters are sprayed with water during a demonstration against corruption and the government's failure to resolve a crisis over rubbish disposal, near the government palace in Beirut on Sunday.
Photo: Reuters
What started as peaceful protests last week turned violent over the weekend after a small group of young men tried repeatedly tried to tear down a barbed wire fence separating the crowds from the Lebanese government building.
Sporadic gunfire could be heard in the capital's commercial district into the night on Sunday as police fired in the air to disperse those who remained after officers used tear gas and water cannons against the crowds. A few remaining protesters later set tires ablaze in Martyrs' Square, with some even pulling down trees, smashing windows and traffic lights.
Workers were seen sweeping glass and other objects that were set on fire from the streets yesterday.
The organizers of the protest say they have been infiltrated by political elements and thugs to discredit their peaceful movement. They announced the cancellation of protests planned for yesterday on their You Stink movement's Facebook page, saying they would hold a news conference later in the day to explain their decision.
Sunday's violence came hours after Lebanese Prime Minister Tammam Salam hinted he might step down following violent protests on Saturday that injured more than 100 people.
The demonstrations, the largest in years to shake tiny Lebanon, seek to upend what protesters see as a corrupt and dysfunctional political system that has no functional Cabinet or parliament, nor a president for more than a year.
Lebanese Red Cross spokesman George Kattaneh told Hezbollah's al-Manar television channel that the violence on Sunday wounded 44 people who required hospital care, while about 200 others received medical treatment on the spot.
A police statement said protesters wounded 30 police officers, one of whom was seriously hurt.
"We are ruled by corrupt losers. All of them — warlords, legislators and ministers — are working for their own interest and not those of the people," said Nada Qadoura, a retired woman who took part in Sunday's protest along with two of her friends. "The will of the people will eventually succeed no matter how long it takes."
Comments will be moderated. Keep comments relevant to the article. Remarks containing abusive and obscene language, personal attacks of any kind or promotion will be removed and the user banned. Final decision will be at the discretion of the Taipei Times.