Obama urges Myanmar to cease discrimination
'TRANSITION': US President Barack Obama made his remarks on the Rohingya as a top US Department of State official visited migrants being held in Malaysia
US President Barack Obama has urged Myanmar to end discrimination against its ethnic Rohingya minority if it wants to succeed in its democratic transition from decades of junta rule, as Burmese officials corrected reports about their handling of stranded migrants found last week.
Myanmar's navy is escorting a boat crammed with 727 stranded migrants to a "safe" location where officials are to verify their identities before taking any further action, a Burmese government spokesman said yesterday.
Correcting an earlier comment that the navy was taking the converted fishing boat to the waters of neighboring Bangladesh, Burmese Minister of Information Ye Htut said the migrants were headed to an undisclosed, but safe, area and had been provided with food and water.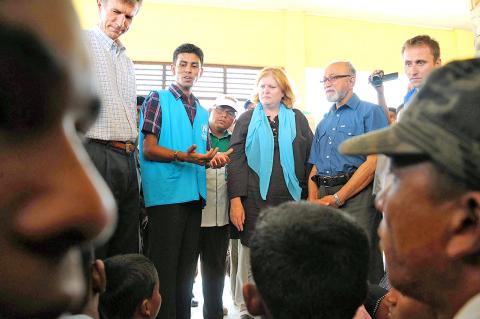 US Assistant Secretary of State Anne Richard, center, is accompanied by local officials and UN staff as she meets Rohingya migrants from Myanmar during a visit to confinement camps for Rohingya and Bangladeshi migrants in Kuala Cangkoi in Indonesia's Aceh Province yesterday.
Photo: AFP
"The operation is starting. They will be taken to a safe destination," Ye Htut said by telephone.
He would not disclose that location due to "security and safety concerns."
The migrants were found drifting in the Andaman Sea on Friday in an overloaded fishing boat that was taking on water.
The plight of the Muslim group, 1.3 million of whom live in western Myanmar, but are mostly denied citizenship, has come under scrutiny as a migrant crisis unfurls in Southeast Asia.
About 3,500 people, mainly Rohingya or economic migrants from Bangladesh, have reached land in Thailand, Malaysia and Indonesia, while thousands more are feared trapped on boats adrift at sea.
Obama has thrown his political weight behind the complex transition in Myanmar, which was ruled by the military until reforms began in 2011.
Tens of thousands of Rohingya have lived in displacement camps since 2012, when deadly communal violence tore through the western state of Rakhine.
"The Rohingya have been discriminated against significantly, and that's part of the reason they're fleeing," Obama said on Monday in Washington at an event with young leaders from Southeast Asia.
Addressing what is "required for Myanmar to succeed," Obama said "one of the most important things is to put an end to discrimination against people because of what they look like or what their faith is."
"I think if I were a Rohingya, I would want to stay where I was born. [However,] I would want to make sure that my government was protecting me and that people were treating me fairly," he added. "And that is why it is so important, I think, as part of the democratic transition, to take very seriously this issue of how the Rohingya are treated."
US Assistant Secretary of State Anne Richard, who is on a tour through the region to address the migrant issue, told reporters late on Monday that she had met some women migrants now in Malaysia and many had endured harrowing experiences.
"It was very clear to me... they had gone through terrible, terrible experiences. They are not in good shape," she said.
Comments will be moderated. Keep comments relevant to the article. Remarks containing abusive and obscene language, personal attacks of any kind or promotion will be removed and the user banned. Final decision will be at the discretion of the Taipei Times.