Mourners pack B.B. King funeral
DRUMMER'S TRIBUTE: Tony Coleman, who played with the blues legend for 37 years, said that King felt 'it was his responsibility' to keep the genre at the top
B.B. King's early life personified the blues: He was born to dirt-poor sharecroppers in the cotton country of the Mississippi Delta and left alone by the deaths of his mother and grandmother when he was a child. However, he never let those circumstances hold him back or define him, a minister said on Saturday at the funeral of the blues legend.
"Hands that once picked cotton would someday pick guitar strings on a national and international stage. Amazing," Herron Wilson said in a standing-room-only sanctuary at Bell Grove Missionary Baptist Church in King's hometown of Indianola, Mississippi.
King, whose distinctive guitar style influenced generations of entertainers, was 89 when he died on May 14 in Las Vegas. At his request, his body was returned to his native Mississippi for a final homecoming.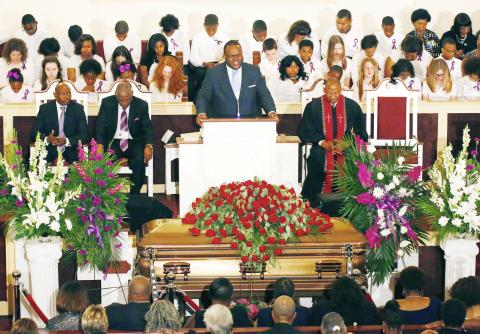 Reverend Otis Anthony prays during the funeral of blues legend B.B. King at Bell Grove Church in Indianola, Mississippi, on Saturday.
Photo: AP
"He will forever be the king of the blues," Stevie Wonder said in a spoken tribute that was played at the funeral, although the entertainer did not attend.
About 500 people filled the sanctuary of the church, a red brick structure that sits in a field off B.B. King Road in Indianola. More than 200 people who could not get into the sanctuary watched a live broadcast of the funeral in the church's fellowship hall, many waving hand-held fans with a black-and-white photo of a smiling King hugging his black electric guitar, Lucille.
At the beginning of the service, family members filed past King's open casket, which had an image of Lucille embroidered on the padded white cloth inside the lid. Later, the casket was closed and covered with a large arrangement of red roses.
Christopher Clouser, a businessman and longtime friend of King, said King instructed him to deliver several messages during the funeral. He sent love to family and friends and thanked his bandmates and other entertainers.
Clouser said King also wanted people to know how uncomfortable he was "riding in the back of the car that Eric was driving" — a reference to Riding With the King, an album that King and Eric Clapton released in 2000 with a cover photo of the two guitarists on a road trip.
Country singer Marty Stuart said King created a musical legacy for the home state they share.
"As a fellow Mississippian, I'm so proud to stand in his shadow as I walk across the world," Stuart said.
On the way into the church, Mississippi Governor Phil Bryant recalled spending time with King in the bluesman's tour bus before a concert last year in Indianola. Bryant said King was proud of being from Mississippi.
Noting the thousands of people who came to Indianola for the public viewing on Friday and funeral, Bryant said: "He would have loved to know that one more time he's helping the Mississippi Delta."
Silvan Zingg, a boogie-woogie pianist from Switzerland, played with King at Switzerland's Montreux Jazz Festival in 2011 and described it as one of the best days of his life. He booked a last-minute flight from Milan, Italy, to Memphis, Tennessee, on Friday so he could attend the funeral and ended up playing during the service.
"To be here today ... with his ... family and his friends, it means everything to me," Zingg said.
Tony Coleman, King's drummer for 37 years, said King never referred to himself as King of the Blues, an honorary title others used.
"He felt like the blues was the king and it was his responsibility to keep it king," Coleman said as he entered the church.
A children's choir based at the B.B. King Museum clapped as they sang gospel songs.
US President Barack Obama and former US president Bill Clinton each sent a letter, and those were read aloud by Democratic US Representative Bennie Thompson of Mississippi, a friend of King.
"The blues has lost its king and America has lost a legend," Obama said. "No one worked harder than B.B. No one did more to spread the gospel of the blues."
Clinton recalled playing two gigs with King: "I was his backup sax man."
As rain fell after the funeral, King was buried at the B.B. King Museum and Delta Interpretive Center, which opened in 2008 to tell his life's story. The museum is to develop a memorial garden, with benches and a water wall, around the gravesite.
Comments will be moderated. Keep comments relevant to the article. Remarks containing abusive and obscene language, personal attacks of any kind or promotion will be removed and the user banned. Final decision will be at the discretion of the Taipei Times.