Kim Jong-un loses temper with terrapin farm workers
Workers at a North Korean terrapin farm probably wished they could withdraw into the protective shells of their charges yesterday, after a visit from North Korean leader Kim Jong-un, who reportedly lambasted operations at the facility.
A large photograph on the front page of the Rodong Sinmun — the official newspaper the Central Committee of the Workers' Party of Korea — showed a clearly irate Kim wagging an admonishing finger at a group of officials in a building housing terrapin breeding tanks.
During his inspection of the farm, Kim "strongly criticized the shortcoming of its officials as a manifestation of incompetence, outmoded ways of thinking and irresponsible work style," Pyongyang's official Korean Central News Agency (KCNA) said in a report on the visit.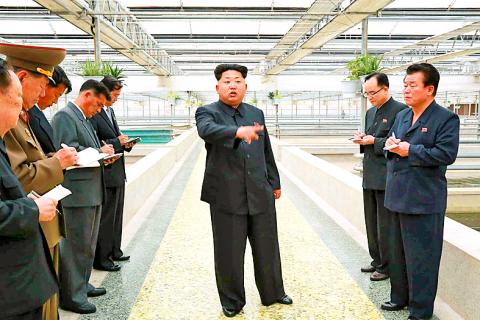 An undated picture released by the Rodong Sinmun newspaper yesterday shows North Korean leader Kim Jong-un, center, speaking during a visit to a terrapin farm at an uknown location in North Korea.
Photo: EPA
Kim appeared to take particular umbrage at how the failings he uncovered were in a farm set up at the personal initiative of his father, former North Korean leader Kim Jong-il, whom the younger Kim succeeded as leader following his death in December 2011.
"The employees who failed to bear deep in their minds [Kim Jong-il's] leadership exploits could hardly perform their role as masters in production," KCNA quoted Kim Jong-un as saying.
If all officials worked like those on the farm, North Korea would never achieve the visionary goals of his father, Kim Jong-un said, adding that their mismanagement would also damage the prestige of the Workers' Party.
Terrapin has long been a popular, if pricey, feature of North Korean cuisine and is usually served in a soup that is valued for its nutritional qualities as much as its taste.
Kim Jong-un, like his father and grandfather before him, conducts scores of "field guidance" inspections every year at civilian and military units across the nation.
Each one is covered by North Korean state media outlets, and the reports and pictures nearly always project the image of a smiling or intrigued Kim Jong-un, questioning and encouraging people as he doles out "expert" advice on their work.
Reports of a stern, public dressing-down like the one given to the officials at the Taedonggang Terrapin Farm are unusual, and undoubtedly deeply worrying for those on the receiving end.
According to South Korea's National Intelligence Service, Kim Jong-un has ordered the execution of more than a dozen officials so far this year, apparently for questioning his authority.
The service last week reported that North Korean Minister of the People's Armed Forces Hyon Yong-chol had been purged and most likely executed for insubordination and dozing off during a formal military rally.
Comments will be moderated. Keep comments relevant to the article. Remarks containing abusive and obscene language, personal attacks of any kind or promotion will be removed and the user banned. Final decision will be at the discretion of the Taipei Times.