Kerry lauds Sri Lankan reforms
PREMATURE? Human Rights Watch criticized the visit as a 'stamp of approval for the new government,' and said Kerry should visit the Tamil-majority north
US Secretary of State John Kerry made the first visit to Sri Lanka by a US official in that capacity in a decade yesterday, championing the new government's fresh effort at democratic reform and promising to deepen ties with a country that sits at a strategic crossroads in the vast Indian Ocean.
The top US diplomat arrived early yesterday in Colombo and met with Sri Lankan Minister of Foreign Affairs Mangala Samaraweera. He then met Sri Lankan President Maithripala Sirisena, and was to speak later with the prime minister and leading officials from the nation's Tamil minority.
Sri Lanka's government, determined to end years of international isolation linked to its long war with Tamil separatists, rolled out the red carpet for Kerry — literally. He entered the Ministry of Foreign Affairs under a welcome sign bearing his image and was greeted by musicians playing horns and drums and dancers in silver breastplates as he proceeded down a long crimson rug.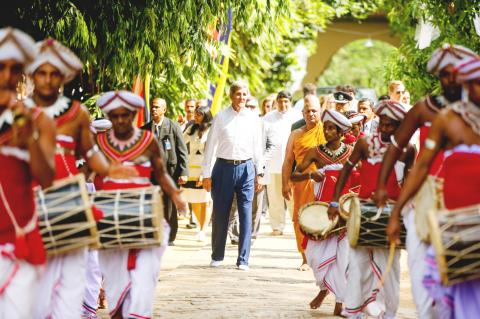 US Secretary of State John Kerry, center, accompanied by head monk Venerable Professor Kollupitiya Mahinda Sangharakkhita Mahathera, center right, makes his way to the Kelaniya Temple in Colombo, Sri Lanka, yesterday. Built on the banks of the Kelaniya River, the temple is one of the most sacred sites in Sri Lanka.
Photo: AP
"In this journey to restore your democracy, the American people stand with you," Kerry said.
"We intend to broaden and deepen our partnership with you," he added, saying the two nations would start an annual partnership dialogue and that officials from the US Department of the Treasury and Department of Commerce would provide technical assistance to Sri Lanka's government.
Kerry's trip, Samaraweera said, "signifies our little island nation's return to the center stage of international affairs," vowing that Sri Lanka would become a "full-fledged parliamentary democracy" and an "investor's paradise."
Former US secretary of state Colin Powell visited Sri Lanka in early 2005, shortly after the Indian Ocean tsunami. That was before fighting intensified between Sri Lanka's government and the Tamil Tiger rebels, who had sought to create an independent state. The military crushed the rebels in 2009 in a final offensive that left tens of thousands dead and the two sides trading accusations of war crimes.
Then-Sri Lankan president Mahinda Rajapaksa, proceeded to tighten his grip on power, weakening democracy and the rule of law and damaging Sri Lanka's reputation internationally.
However, in January Sirisena shocked Rajapaksa by winning a close election after vowing to overhaul a system widely seen as autocratic and suffocating for minorities. Last week, the Sri Lankan parliament voted nearly unanimously to endorse Sirisena's proposals to clip the powers of the president that Rajapaksa had expanded significantly.
Encouraged by the new atmosphere, the US helped in postponing for six months the publication of a UN inquiry into possible war crimes by Sri Lanka. The UN human rights chief is among those expected to visit the country soon.
In Washington, US officials have voiced optimism about the changes, saying they do not want to interfere with the "domestic-led process of reconciliation" underway.
Some human rights campaigners believe the US is congratulating Sirisena too soon.
Kerry's trip is "being read locally as an increasing stamp of approval for the new government," Human Rights Watch Asia advocacy director John Sifton said.
He criticized the trip for not including a planned visit to the Tamil-majority north and said he viewed the omission as "an indication that the US no longer really cares about the massive rights abuses that occurred there and the rights issues which are still relevant today."
The US can gain from better relations with Sri Lanka, too.
US exports to Sri Lanka totaled US$314 million in 2013, the last year for which the Office of the US Trade Representativeoffers figures. That was 40 percent higher than the previous year, but still far below the potential value offered by a market of more than 20 million Sri Lankans, who on average have significantly more spending power than their neighbors in India.
Sri Lankan exports to the US were about US$2.5 billion in 2013.
On a strategic level, Sri Lanka's geographical location along the maritime route between the manufacturing hubs of East Asia and the growing consumer markets of Africa and the Middle East present the US with a compelling case for tightening ties.
Rajapaksa had cultivated close relations with China, which provided financing for huge infrastructure projects amid allegations of Sri Lankan government corruption. Sirisena has pushed to recalibrate his predecessor's strongly pro-China policies and conduct a review of major Chinese projects.
Comments will be moderated. Keep comments relevant to the article. Remarks containing abusive and obscene language, personal attacks of any kind or promotion will be removed and the user banned. Final decision will be at the discretion of the Taipei Times.