TV show takes aim at Afghanistan's taboos
In a grimy Kabul street, the director gives the order to roll the cameras and filming starts on a remarkable new television drama that boldly challenges taboos about women in conservative Afghanistan.
Shereen, the star, enters the scene and buys a few things from street vendors when suddenly her husband, a possessive and brutal man, grabs her.
However, tough no-nonsense Shereen will not back down and a row ensues.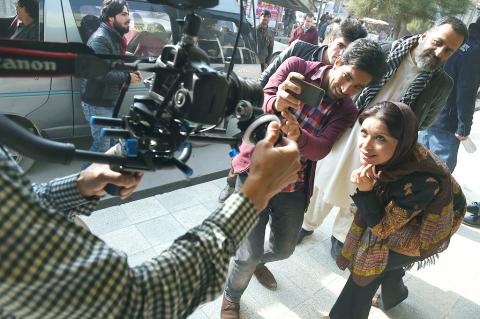 Afghan actress Leena Alam poses on a street in Kabul on March 11 while filming a scene for a new television drama.
Photo: AFP
Shereen's Law, due to be aired on Afghan television before the end of the year, tells the story of a 36-year-old woman who brings up three children on her own while forging a career as a clerk at a court in Kabul.
Such a character is already shocking in an overwhelmingly patriarchal society, where most women are confined to lives of menial domesticity.
However, the show deliberately ramps up the impact. Shereen fights corruption, harassment and rape, and tries to divorce her husband, whom she wed in a forced marriage.
More than 13 years after the fall of the Taliban, Afghanistan remains deeply wedded to traditional customs and its airwaves have never hosted anything like this before.
"It is the first such drama — that is about women, that is about empowering women, that is about the struggles of women in Afghanistan," said Leena Alam, the Afghan actress who plays Shereen.
Women in Afghanistan still suffer brutal violence on a daily basis. On March 19, a young woman was beaten to death and her body burned in central Kabul for allegedly burning a Koran.
Defying entrenched conventions in such a country comes with a risk, as Alam — who moved to the US as a child with her family before returning in 2007 — admits.
"It's a bit dangerous, even for myself. Yesterday we were shooting outside. When ... I'm waiting for the shot I'm always scared that somebody may throw acid on me or somebody may hit me with a knife," she said.
Casting the show was not easy — several actors said no to a storyline they found just too challenging. One, who played a lawyer friend of Shereen, was forced to pull out, because her husband was unhappy with the show.
As well as portraying a strong female character, the series attacks the Afghan judicial system, where rampant corruption is hidden behind a wall of silence.
"It takes a lot of courage to write something like this and it takes a lot of courage to play something like Shereen," said Alam, a producer who has also appeared in several Afghan films.
"But I think it's time, after more than 30 years, to move on and educate people and give them the information as bluntly as Shereen," she said.
Apart from the exterior street scenes, the show's action takes place in a studio with sets decked out to look like a courtroom, Shereen's house and legal offices.
No detail has been missed, from the portrait of Afghan President Ashraf Ghani in the courtroom to the stapler on Shereen's desk.
Director and writer Max Walker, an Australian who came to work in Afghanistan, says he took advice in advance on how to avoid drawing too much attention from conservative clerics.
"There's been an enormous consultation, an enormous review of the script and of the whole storytelling process to make sure that it raises these issues, but it doesn't raise them so bluntly and so offensively that it's going to make the program go off air," Walker said.
Under the Taliban's hardline 1996-2001 regime, television was banned, but now 58 percent of homes have a set, according to the Asia Foundation development organization.
Shereen's Law will face tough competition for viewers from popular imported Turkish and Indian soap operas.
Frenchwoman Anne Jasim Falher, the founder and head of consultancy firm ATR in Kabul and a long-term observer of Afghan society, says television has a role to play in changing attitudes.
"Television has allowed people to shake things up on forced marriage, probably also on violence against women and violence within families," she said.
The 12 45-minute episodes are being made by the Tolo TV channel, one of the big successes of Afghanistan's new media scene, largely funded by foreign donors when it was launched in 2004.
The Moby group, which owns Tolo, claims a pioneering role for itself, notably for being the first Afghan channel to have female and male presenters alongside one another.
"You have to cross the barriers sometimes and you have to do something where you give the voice to the women," Moby director of programming Massoud Sanjer said.
"Afghanistan is a country where if you tell directly people 'do this,' they won't do it. But if you just give them a reason, make them think themselves, they will do it," Sanjer said.
"So a TV show will definitely help the men who are the dominant power of the society to think that a woman is also part of this country, a woman is part of their lives, and a woman is part of their family," Sanjer added.
Comments will be moderated. Keep comments relevant to the article. Remarks containing abusive and obscene language, personal attacks of any kind or promotion will be removed and the user banned. Final decision will be at the discretion of the Taipei Times.