Singaporean PM Lee has successful cancer operation
PROSTATE: Speculation about the Singaporean PM's undetermined successor could increase after his second bout with cancer, an analyst said
Singaporean Prime Minister Lee Hsien Loong (李顯龍) has successfully undergone surgery for prostate cancer and is expected to make a full recovery, his office said yesterday.
On Sunday, Lee's office announced that he would have an operation yesterday to remove his prostate gland and would take a week of medical leave, with Singaporean Deputy Prime Minister Teo Chee Hean (張志賢) heading the government.
"The surgery went very smoothly and he is expected to recover fully," Singapore General Hospital lead urologist Christopher Cheng (鄭畏三) was quoted as saying in a statement.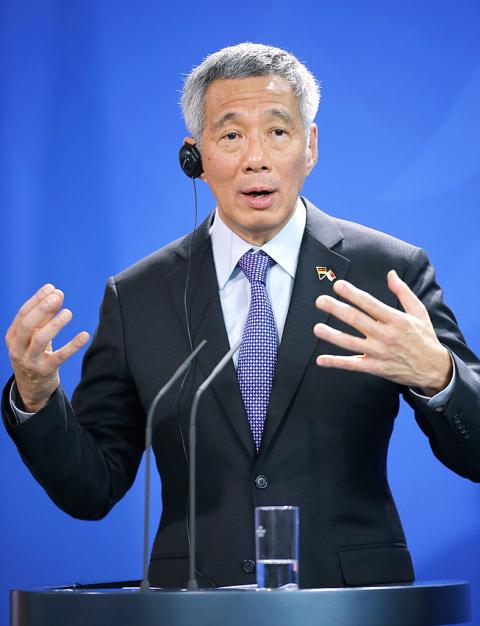 Singaporean Prime Minister Lee Hsien Loong gestures as he addresses a news conference at the Chancellery in Berlin on Feb. 3.
Photo: Reuters
Lee, 63, was previously diagnosed with lymphoma in 1992, but the cancer went into remission after chemotherapy.
Cheng said that there was no relationship between the lymphoma and the prostate cancer.
Lee's illness raises questions about the need for a public succession plan if he steps down in the future, as his ruling People's Action Party has not named a successor.
"Given that prostate cancer is not uncommon among people of a certain age and is, indeed, easily treated, the issue is not urgent," said Manu Bhaskaran, a Singapore-based partner at Centennial Asia Advisors, a policy advisory group based in Washington. "However, more people could well focus on the issue now."
However, the strength of political institutions and the durability of a national consensus are more important to political stability, he said.
"On both these scores, Singapore does well," Bhaskaran said.
Singapore's two previous changes of prime minister since independence in 1965 involved well-flagged transitions to previously anointed successors.
Lee last month hinted in an interview with domestic media outlets that his successor could be a member of his Cabinet.
"Yes, he may already be in the Cabinet, but it is not entirely certain, because I will bring in some MPs and some new people [of] leadership caliber in the next general election," he said.
The next election must be held by January 2017, but media outlets and Internet sites have speculated that it could come as early as this year, after celebrations in August of Singapore's 50th anniversary of independence from Britain.
Comments will be moderated. Keep comments relevant to the article. Remarks containing abusive and obscene language, personal attacks of any kind or promotion will be removed and the user banned. Final decision will be at the discretion of the Taipei Times.