Heavy snow brings chaos to Europe
'GIFt FROM THE SKY': Despite wreaking havoc with transportation, the arrival of fresh snow was welcomed by European ski resorts along the Alps down to Italy
Heavy snowfall brought both chaos and joy across Europe overnight on Sunday, with about 15,000 people stranded overnight in the French Alps while skiers reveled in the fresh powder blanketing slopes.
A winter storm left thousands of people in the UK without power, sent trucks sliding across icy highways in Germany and caused airport delays and traffic disruptions across the region.
A Swiss national died and 30 people were injured, two of them seriously, in a highway pile-up about 40km from the Slovenian capital, Ljubljana, after heavy snow fell in the center of the nation, police said.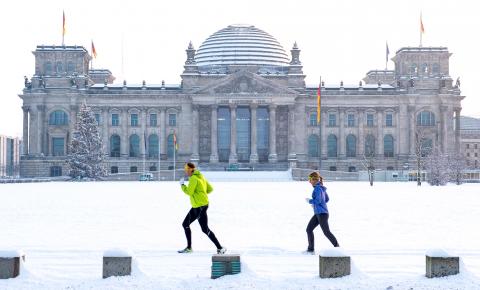 People run in the fresh snow in front of the Bundestag, the German parliament, yesterday in Berlin.
Photo: AFP
The abundant powder created idyllic conditions for skiers in France and Germany, who have anxiously been watching bare slopes as temperatures remained unseasonably warm in recent weeks.
However, it also created havoc for holidaymakers rushing to and from ski resorts for their year-end vacations. Authorities in the Savoie region of the French Alps said nearly 15,000 people had been housed in emergency shelters, while others were forced to spend the night in their cars.
"It took us 10 hours to go 130km," said Kevin Clavel who was stuck in his car with four passengers.
About 50 British holidaymakers bitterly complained of inaction after they remained in a French gymnasium for a second night following heavy snowfall in Savoie.
"We're still stuck in Albertville, where we were put to sleep with excuses for 28 hours," said Sarah Stewart on Twitter, who was traveling with Britain's Crystal Ski tour operator.
The heavy snows also brought the threat of avalanches, and one person died on Sunday after being buried in a torrent of snow in the southern French Alps. Icy conditions also caused the death of a 27-year-old man whose car slid into a ravine in the Belledonne mountain range.
French Minister of the Interior Bernard Cazeneuve urged drivers "to exercise the utmost caution" and asked those who could delay their trips to do so.
The snow storm caused disruption in the UK where more than 100,000 homes were left without power and airports suffered delays.
In Germany, police reported dozens of weather-related accidents on highways and country roads, with trucks sliding across icy lanes and creating a 20km traffic jam near the western city of Stuttgart. The nation's biggest airport, Frankfurt, canceled 20 of Sunday's more than 900 scheduled flights and reported widespread delays as runways were cleared and jets de-iced.
As temperatures plunged in Italy, more than half the country was covered in snow, to the delight of ski resort operators from the Alps down to the lesser-known mountains of Abruzzo, east of Rome.
The cold snap is expected to dig in across Europe into the New Year, with temperatures in the UK likely to drop as low as minus-10°C next week.
Despite the chaos, the arrival of fresh white powder was a boon to European ski resorts which had been unable to fully open during the key holiday season.
"What joy! It is a gift from the sky," said Gilbert Blanc-Tailleur, of the Courchevel ski resort in the French Alps.
"Snow is coming. Winter is finally here!" La Bresse ski station in the eastern Vosges mountains said on its Web site.
In Austria, ski resort operators also breathed a sigh of relief as much of the country was blanketed in snow.
The Oesterreich daily declared the ski season saved on Saturday, headlining with: "Hurray! The snow is here."
Meanwhile in France, winds also wreaked havoc, with storms packing gusts of up to 160km per hour forcing the temporary closure on Saturday of the French port of Calais and the suspension of car ferries to and from the UK. A few kilometers outside the city, thousands of illegal immigrants living in makeshift camps struggled through a second night of freezing temperatures.
"The conditions outside are hellish," said David Lacour, the director of aid organization Solid'R, which is running a care center to help immigrants survive the cold. "The storm blew away a lot of tents — some now have nothing."
Up to 2,300 immigrants are thought to be in Calais and surrounding areas, where they live in flimsy tents waiting for a chance to get to the UK.
Comments will be moderated. Keep comments relevant to the article. Remarks containing abusive and obscene language, personal attacks of any kind or promotion will be removed and the user banned. Final decision will be at the discretion of the Taipei Times.