Stampede in India kills 32, dozens hurt
TRAGEDY: Thousands celebrating the Dussehra festival were leaving the venue when panic among the crowd led to the stampede, which killed mostly women and children
A stampede at a popular Hindu festival in eastern India celebrating the victory of good over evil left 32 people dead on Friday, an official said.
Thousands of people were starting to leave the grounds after celebrating the Dussehra festival in the city of Patna when panic erupted, possibly caused by rumors of an electrical fire.
"We have information that 32 people including women and children died due to a stampede," Gupteshwar Pandey, additional director-general of police for Bihar state, told reporters.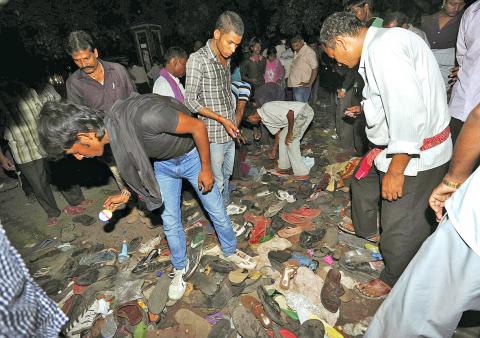 People search for their belongings among shoes left behind during a stampede in the eastern Indian city of Patna on Friday.
Photo: Reuters
"Dozens of people were seriously injured," he said.
The crowds were exiting the Gandhi Maidan venue after watching giant effigies of Hindu demon king Ravana set ablaze in a tradition for Dussehra — a custom especially enjoyed by families — when people rushed and fell.
"Someone screamed that a burning electrical wire [had] set fire on the ground and, hearing that, almost everyone jumped on each other to get out of the venue as quickly as possible," a witness told the NDTV network. "Because of that, they all got trampled on and run over. It was pure panic."
Dussehra, celebrated by millions of Hindus mainly across the country's north, is marked with a holiday.
Patna district magistrate Kumar Verma put the death toll at between 20 and 25, adding that all of the injured had been rushed to the city's hospitals.
"The information we have is that most of the victims were women — five to six were children and about 20 women," he told reporters. "Fifteen have been injured. Hospital staff are on the job. I have full faith that all the injured will be saved."
Television footage showed ripped clothes and discarded shoes just outside the venue, as angry people spoke of overcrowding and poor lighting.
Some in the crowd were seen protesting by throwing shoes and plastic bottles at police, screaming about a lack of security and an evacuation plan at the venue.
Distraught relatives outside one of the hospitals were seen crying and screaming, as security stopped them from entering the facility.
Ambulances and hospital staff were seen carrying some of the injured inside on stretchers.
Indian Prime Minister Narendra Modi expressed his condolences to the families of those killed, with his government announcing 200,000 rupees (US$3,240) as compensation.
"The stampede in Patna is deeply saddening. I spoke to the Bihar CM [chief minister] about the situation," Modi said on Twitter.
Bihar is one of India's most populated and underdeveloped states, with millions of people living in poverty.
India has a long history of deadly stampedes at religious festivals, where large numbers of people crowd into congested areas. Safety regulations are few, while inadequate policing can sometimes cause panic.
In August, a stampede at a Hindu temple in Madhya Pradesh state killed at least 10 people and injured scores.
In October last year, about 115 devotees were crushed to death or drowned on a bridge near another Hindu temple, also in Madhya Pradesh.
About 102 Hindu devotees were killed in a stampede in January, 2011, in the southern state of Kerala, while 224 pilgrims died in September, 2008, as thousands of worshipers rushed to reach a 15th-century hilltop temple at Jodhpur in Rajasthan state.
Comments will be moderated. Keep comments relevant to the article. Remarks containing abusive and obscene language, personal attacks of any kind or promotion will be removed and the user banned. Final decision will be at the discretion of the Taipei Times.