Suicide bomber kills three in Kabul
'STOOGE GOVERNMENT': Dismissing the elections as a publicity stunt, the Taliban vowed to step up attacks following a 'slave pact' to allow US troops to stay on
A Taliban suicide attacker killed three people on an Afghan army bus in Kabul yesterday, the latest deadly strike against such vehicles since the new government signed a deal for US troops to stay in the country.
Dozens of shuttle buses take government and military personnel to work every morning in Kabul, and they have often been targeted by insurgents despite efforts by security forces to provide better protection.
On Wednesday, Taliban suicide bombers killed at least seven people in attacks on two buses.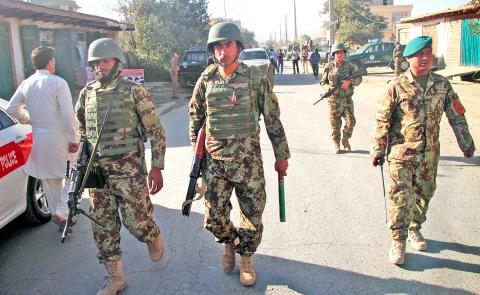 Afghan security officials secure the site of a suicide bomb attack in Kabul, on Wednesday.
Photo: EPA
The militant group, which claimed responsibility for all three blasts, strongly opposes the US troop agreement that was signed on Tuesday.
"I can confirm a suicide attack on a bus carrying Afghan army staff," Afghan Ministry of Defence spokesman Dawlat Waziri told reporters. "We have three killed and eight wounded. The wounded were immediately taken to the hospital, and they are in a stable condition."
A police statement confirmed the death toll and injured.
"Around 7am, a suicide attacker targeted a bus carrying Afghan security forces. As a result, a number of officers were killed and wounded," Taliban spokesman Zabihullah Mujahid said in a text message.
Afghanistan and the US on Tuesday signed the long-delayed bilateral security agreement to allow about 10,000 US troops to stay in the country next year.
The signing took place on Afghan President Ashraf Ghani's first day in office and represents a major step toward mending frayed ties between Kabul and Washington.
After Wednesday's blasts, the Taliban said it was sending "a clear message to the stooge government that signed the slave pact, and we will step up our attacks after this."
The agreement was signed by Afghanistan's new "national unity government" which was formed under a US-brokered agreement to solve months of disputes over who had won the presidential election.
Ghani agreed to a powersharing deal with former Afghan minister of foreign affairs Abdullah Abdullah, who has taken up the role of chief executive.
On Wednesday, Taliban leader Mullah Omar released his traditional Eid al-Fitr message to his followers.
It dismissed the elections as "a publicity stunt" and said that the US had "lost all possibilities to win" the war, but made no direct mention of the bilateral security agreement or the new government.
NATO's follow-up mission, scheduled to take over on Jan. 1 next year, is to be made up of 9,800 US troops and about 3,000 soldiers from Germany, Italy and other member nations.
US-led NATO combat operations in Afghanistan are set to finish at the end of this year and the Taliban has launched a series of recent offensives that have severely tested Afghan soldiers and police.
The new mission — named Resolute Support — is to focus on supporting Afghan forces as they take on militants, in parallel with US counter-terrorism operations.
Comments will be moderated. Keep comments relevant to the article. Remarks containing abusive and obscene language, personal attacks of any kind or promotion will be removed and the user banned. Final decision will be at the discretion of the Taipei Times.