False tsunami alert panics hundreds in Philippines
A false tsunami alarm left one person dead and prompted hundreds of others to flee their homes in the Philippines, where natural disasters are frequent, a civil defense official said yesterday.
The cause of the sudden panic that hit Candelaria, Quezon Province, and other impoverished towns is still being investigated, said Henry Buzar, head of the area's disaster management council.
A 63-year-old woman who was fleeing on a motorized tricycle had a heart attack and died, Buzar said, citing a local hospital.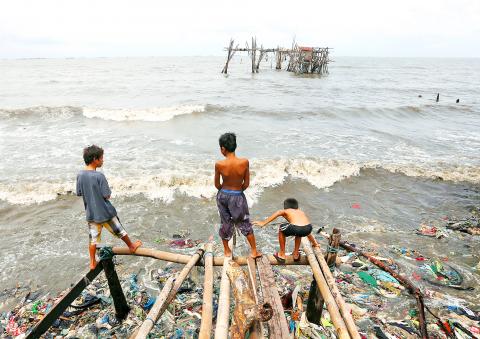 Young boys stand on a platform to catch items that wash ashore in Navotas, Metro Manila, Philippines, yesterday. The Philippine Atmospheric Geophysical and Astronomical Services Administration said that it is monitoring a new potential cyclone outside the Philippines which may arrive within days.
Photo: EPA
"We really don't know where the rumor came from. We suddenly received information that there were some people evacuating from the area" late on Tuesday, he said.
"It was really chaotic. I told our staff to block the people and tell them there is no truth to these rumors, but they told me they could not stop the rush of people," Buzar said.
Nearly a thousand people, many crammed into trucks and mini-buses, gathered at Candelaria's town hall for safety.
However, when no tsunami materialized, they went home after a few hours, he added.
Buzar said he was puzzled by the sudden evacuation as there had been no report of any earthquake that might cause a tsunami, and many of those who fled did not even live on the coast.
The darkness and heavy rains brought on by the passage of Typhoon Matmo and anonymous cellphone SMS messages may have helped trigger the confused exodus even though Matmo never hit land, disaster officials said.
Comments will be moderated. Keep comments relevant to the article. Remarks containing abusive and obscene language, personal attacks of any kind or promotion will be removed and the user banned. Final decision will be at the discretion of the Taipei Times.