France's Hollande visits West Africa
SAHEL: The French president touted changes to his country's military strategy in the region as he made the rounds of former colonies and other African nations
French President Francois Hollande on Friday promoted a new military operation being rolled out in West Africa to take on a multifaceted menace from extremist groups that he said threatened France's interests and citizens.
France led a military intervention in former colony Mali last year, halting the advance of extremist fighters who had seized control of the northern two-thirds of the country in 2012.
The military operation succeeded in scattering the Islamist groups in Mali, and Paris is in the process of reorganizing its deployment in the region, with its 1,700 soldiers in Mali being folded into a broader counterterrorism force.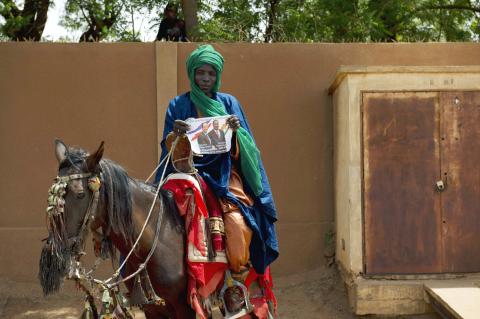 A man holds a poster depicting French President Francois Hollande and Nigerien President Mahamadou Issoufou on Friday in Niamey, Niger.
Photo: AFP
Under the plan, about 3,000 French troops are to operate out of Mali, Burkina Faso, Niger and Chad — countries straddling the vast, arid Sahel band — with the aim of stamping out an extremist threat.
"There are threats, notably from Libya. Military hardware has accumulated there, and without a doubt, terrorists are seeking refuge there," Hollande said in Niger during a three-day trip that is also to take him to Ivory Coast and Chad.
"We have, therefore, decided to put in place structures and measures that will allow us to confront this threat of terrorism in the Sahel," he said.
Extremists launched suicide attacks last year on Niger's Somair uranium mine in Arlit, which is operated by Areva, a supplier of uranium to France's nuclear power program.
Twenty-four soldiers and one civilian were killed in the raids, which Nigerien President Mahamadou Issoufou blamed on fighters based in southern Libya.
Though weakened, Islamist fighters in Mali still carry out sporadic attacks there.
A French soldier was killed and several others injured by a suicide attack in Mali on Monday last week, and a Cambodian UN peacekeeper was injured by a bomb on Friday.
Hollande also spoke of the risks posed by the worsening Boko Haram insurgency in Nigeria, to Niger's south, where fighters carry out daily bombings, raids on villages and kidnappings.
"Niger's security, West Africa's security is France's security," Hollande told French military personnel at a French air base outside the capital, Niamey.
"What can happen in Niger can touch our own security, our own interests, our own population. So while you are here ensuring the security of Niger, you are also ensuring the security of France," he said.
Comments will be moderated. Keep comments relevant to the article. Remarks containing abusive and obscene language, personal attacks of any kind or promotion will be removed and the user banned. Final decision will be at the discretion of the Taipei Times.