Karzai says US troops not necessary
FIGHTING WORDS: The Afghan president used his last speech to parliament to reaffirm his refusal to sign a US security pact and warn all countries against future interference
In his final address to Afghanistan's parliament on Saturday, Afghan President Hamid Karzai told the US that its soldiers can leave at the end of the year because his military, which already protects 93 percent of the country, was ready to take over entirely.
In his speech, Karzai reiterated his stance that he would not sign a bilateral security pact with Washington that would provide for a residual force of US troops to remain behind after the final withdrawal, unless peace is established first.
Karzai is under heavy pressure to sign the Bilateral Security Agreement not only from the US, but also from within his country, after a Loya Jirga — or council of elders — that he convened to study the pact recommend that he sign it.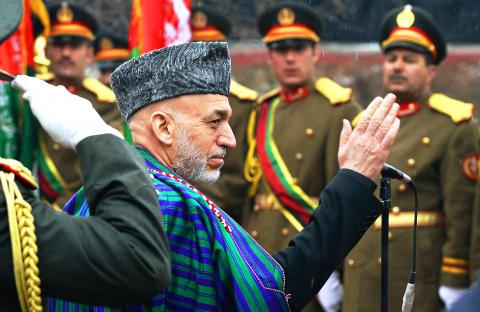 Afghan President Hamid Karzai yesterday inspects an honor guard before delivering his final address to parliament in Kabul.
Photo: AFP
The forces left behind would train and mentor Afghan troops, while some US Special Forces would hunt down al-Qaeda.
All 10 candidates seeking the presidency in elections set for April 5 have said they would sign the agreement, but Karzai does not appear to want his legacy to include a commitment to a longer foreign troop presence in the war-torn country.
Karzai came to power in December 2001 following an international agreement signed in Bonn, Germany, and was confirmed by a grand council that selected a transitional government to rule while preparing for nationwide elections.
He then won two elections, in 2004 and in 2009, and will step down after next month's polls. Under Afghanistan's constitution, he is banned from seeking a third term.
Relations between Karzai and Washington have been on a downward spiral since his re-election in 2009 in a process that the US and several other countries charge was riddled with fraud. Karzai has in turn accused them of interference.
The Afghan president has espoused a combative nationalism in recent years and his hour-long speech on Saturday at the Afghan parliament's opening session was no exception.
"I want to say to all those foreign countries who maybe out of habit or because they want to interfere, that they should not interfere," he said.
Karzai said the war in Afghanistan was "imposed" on the nation, presumably by the US-led 2001 invasion, and told Washington that it could bring peace to Afghanistan if it went after terrorist sanctuaries and countries that supported terrorism — a reference to Pakistan.
Karzai also reiterated his call to Taliban insurgents to join the peace process, while accusing Pakistan of protecting the group's leadership.
He suggested that Islamabad was behind the killing earlier this year of a Taliban leader who supported the peace process.
Islamabad has a complicated relationship with the Afghan Taliban; it backed the group before their 2001 overthrow and although it is now at war with Taliban militants at home, Afghan insurgents sometimes find refuge in Pakistani territory.
Throughout his speech, Karzai spoke of his accomplishments over the past 12 years, saying that schools were functioning, women were being granted rights, energy projects were coming online and the Afghan currency had stabilized.
Karzai said when he first took power, the country was isolated and nothing was functioning.
"I know the future president will protect these gains and priorities and will do the best for peace in the country and I, as an Afghan citizen, will support peace and will cooperate," he said.
Comments will be moderated. Keep comments relevant to the article. Remarks containing abusive and obscene language, personal attacks of any kind or promotion will be removed and the user banned. Final decision will be at the discretion of the Taipei Times.