Pussy Riot appear at Amnesty gig
Two members of the Russian punk band Pussy Riot took to a New York stage on Wednesday evening to demand the release of anti-government prisoners as Russia prepares to open the Winter Olympics in Sochi.
Russian President Vladimir Putin has staked his reputation on the Sochi Games, but Russia has come under pressure by human rights activists in the months leading up to the Games for its intolerance of political dissent and a law passed last year banning promotion of homosexuality among minors.
"We demand a Russia that is free and a Russia without Putin," Pussy Riot's Nadezhda Tolokonnikova said after being introduced at Amnesty International's "Bringing Human Rights Home" concert by pop star Madonna.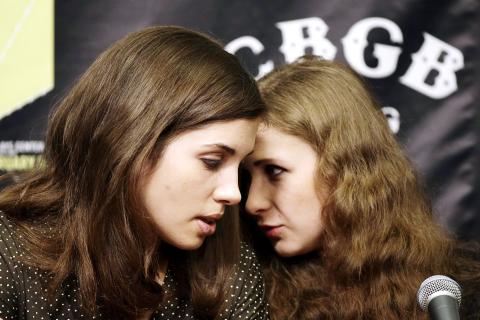 Nadezhda Tolokonnikova, left, and Maria Alekhina of the Russian feminist punk rock group Pussy Riot talk to one another as they address the media at a press conference before the start of the Amnesty International "Bringing Human Rights Home" concert at the Barclays Center in Brooklyn, New York, on Wednesday.
Photo: EPA
The case of Pussy Riot, in particular, has sparked a global outcry.
In 2012, Tolokonnikova, 24, and Maria Alekhina, 25, were convicted of hooliganism motivated by religious hatred after storming Moscow's biggest Orthodox cathedral and beseeching the Virgin Mary to rid Russia of Putin.
After nearly two years behind bars, Putin granted them an amnesty in December last year.
Before speaking at the concert, the pair met with US Ambassador to the UN Samantha Power to discuss "disturbing" trends in Russia, prompting a retort from Moscow's UN envoy.
At the concert, the pair sought to draw attention to the fate of eight Russian demonstrators who will be sentenced later this month after being charged with mass disorder at a 2012 protest against Putin.
Power traded jibes with Russian Ambassador to the UN Vitaly Churkin over her meeting with the two members of Pussy Riot.
Power tweeted that she met "some brave 'troublemakers'" who discussed their time in jail.
"I asked Pussy Riot if they were afraid of prison. Response: No. In prison we could see the terrible conditions. It's human rights fieldwork," Power added.
When Churkin was asked about Power's meeting with Pussy Riot at a press conference late on Wednesday, he quipped: "She has not joined the band?"
As journalists burst into laughter, he said: "I would expect her to invite them to perform in the National Cathedral in Washington. This is my expectation. Maybe they arrange a world tour for them — St Peter's cathedral in Rome, then maybe in Mecca in Saudi Arabia and end up with a gala concert at the Wailing Wall in Jerusalem. If ambassador Power fell short, I would be disappointed," Churkin said.
After hearing his comments, Power tweeted: "Ambassador Churkin. I'd be honored to go on tour with Pussy Riot — a group of girls who speak up & stand for human rights. Will you join us?"
Comments will be moderated. Keep comments relevant to the article. Remarks containing abusive and obscene language, personal attacks of any kind or promotion will be removed and the user banned. Final decision will be at the discretion of the Taipei Times.