Mao's presence lingers 120 years after birth
With his image gracing bank notes and staring out from Tiananmen in Beijing, Mao Zedong (毛澤東) remains a constant presence in China 120 years after his birth, revered as a hero who founded the Chinese Communist State and restored national pride — even as China moves ever further from his vision of a communist society.
China is marking Thursday's anniversary of his birth with relatively understated celebrations, a far cry from the cult of personality that once surrounded Mao, and a sign of how far China has traveled in the 37 years since his death and the more than three decades since the junking of orthodox Marxism.
Chinese President Xi Jinping (習近平) invokes Mao in his fight against corruption and borrows Maoist concepts such as the "mass line" to extol the virtues of close ties between the rulers and those ruled.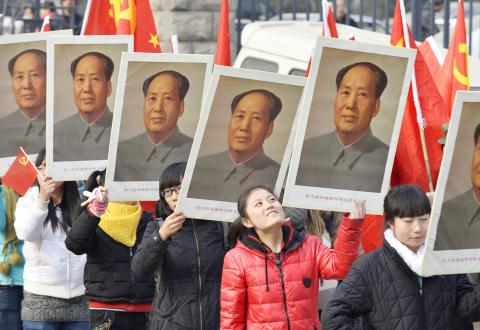 Students hold portraits of China's late chairman Mao Zedong during a commemorative event ahead of Thursday, which marks the 120th anniversary of Mao's birth, at a university campus in Taiyuan, Shanxi Province, on Saturday.
Photo: Reuters
Yet he has also proposed giving the free market a "decisive role" in the economy, a concept that would have been anathema to the "Great Helmsman," as Mao was called.
Still, as heirs of the rigid one-party political system imposed by Mao and his party comrades, the current leadership has a strong interest in venerating his memory.
"Because Mao was founder of the communist state, to commemorate Mao is to, in fact, demonstrate the legitimacy of their own rule," historian and political analyst Zhang Lifan (章立凡) says.
The run-up to the anniversary has included dozens of symposiums, exhibitions, concerts and television specials.
Not surprisingly, many are looking to cash in on the date, especially in his home village of Shaoshan in the Hunan Province.
Mao worship is a cornerstone of the local economy, and the town fathers are using US$2.5 billion in public funds to renovate museums and historical sites, along with highways, schools and other infrastructure.
Sites associated with Mao around the country are getting facelifts as part of an effort to promote "red tourism" and bring development to some of China's least developed areas.
Excess is also making a showing, including a US$16 million gilded statue of the man — blinged-out with precious gems — in the city of Shenzhen, and a special-edition offering of China's most expensive liquor.
Mao remains a strong symbolic presence, though not nearly as ubiquitous he was during his lifetime.
Thousands of Chinese tourists line up daily to view his embalmed body in its Tiananmen Square mausoleum, which has also undergone renovation.
His image graces almost all bank notes from 1 yuan to 100 yuan, and Chinese studios crank out a steady flow of new movies and television series based on highly sterilized versions of his life and the party's history.
Such hagiographies studiously avoid Mao's central part in China's two worst post-war tragedies: the 1959-1963 Great Leap Forward and 1966-1976 Cultural Revolution, when as many as 30 million Chinese died through starvation and persecution.
Instead, they focus on Mao's role as leader of the communist guerrillas who battled Chiang Kai-shek (蔣介石), as founder of the Chinese communist state in 1949, and as a leader who defied both Washington and Moscow to establish China as a new geopolitical center.
For many younger Chinese, steeped in the sometimes xenophobic nationalism that has replaced communism as the national ethos, Mao's achievement in winning China respect far outweighs his political misdeeds, said Alexander Pantsov, co-author of last year's well-received biography, Mao: The Real Story.
As China's last truly autocratic leader, Mao also represents a simpler time, and his legacy is invoked both as an emblem of fiery nationalism and to protest current policies seen as favoring the growing wealth gap that has supplanted Mao's impoverished, but egalitarian society.
Most recently, Mao portraits featured prominently among the crowd during sometimes violent anti-Japanese protests last year.
Officially, judgments on Mao's legacy have been closed since successor Deng Xiaoping's (鄧小平) pronouncement in 1981 that the former leader's contributions were "70 percent positive, 30 percent negative."
Amid a general ambivalence about politics among younger Chinese, ideological debates have been pushed to the margins.
However, for diehards such as Fan Jinggang, editor-in-chief of the Maoist Web site Utopia, Mao remains an untarnished hero nonpareil and Thursday's anniversary is a cause for vast celebration.
"The people are showing their sincere lofty feelings toward Chairman Mao and their striving for fairness and justice and their love for the party and the socialist nation," Fan said.
Comments will be moderated. Keep comments relevant to the article. Remarks containing abusive and obscene language, personal attacks of any kind or promotion will be removed and the user banned. Final decision will be at the discretion of the Taipei Times.