Mexico tackles recovery of stolen radioactive cobalt
Mexican troops and federal police kept a nighttime watch on a rural field where thieves abandoned a stolen shipment of highly radioactive cobalt-60, while officials began planning the delicate task of recovering the dangerous material.
Juan Eibenschutz, director general of the Mexican National Commission of Nuclear Safety and Safeguards, said late on Wednesday that it could take at least two days to safely get the material into a secure container and transport it to a waste site.
"It's a very delicate operation," Eibenschutz said. "What's important is that the material has been located and the place is being watched to guarantee no one gets close."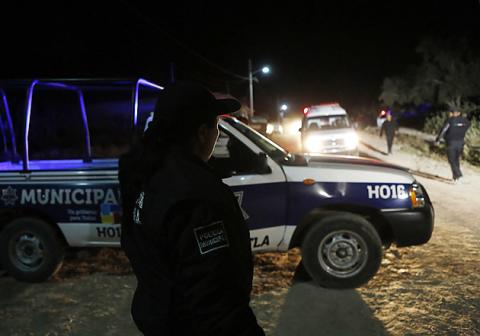 Police stand guard on a street after dangerous radioactive medical material was found in the town of Hueypoxtla, Mexico, on Wednesday.
Photo: Reuters
The missing shipment of radioactive cobalt-60 was found on Wednesday near where the stolen truck transporting the material was abandoned in central Mexico.
The highly radioactive material had been removed from its container, officials said, and one official predicted that anyone involved in opening the box could be in grave danger of dying within days.
The cobalt-60 was left in a rural area about one kilometer from Hueypoxtla, a farm town of about 4,000 people, but it posed no threat to the residents and there was no evacuation, Eibenschutz said.
"Fortunately there are no people where the source of radioactivity is," Eibenschutz said.
Townspeople complained they had not been given any information about what had been found in the nearby field.
"We don't know anything," resident Jose Antonio Rosales told Milenio Television. "We don't know if it's good, if it's bad. The authorities haven't told us anything."
Mexican federal police and military units on the scene threw up an armed cordon about 500m around the site.
Mardonio Jimenez, a physicist for the nuclear commission, said it was the first time cobalt-60 had been stolen and extracted from its container in Mexico. The only threat was to whoever opened the box and later discarded the pellets of high-intensity radioactive material inside, he said.
"The person or people who took this out are in very great risk of dying," Jimenez said, adding that the normal survival rate would be between one and three days.
He said there was no word so far of anyone reporting to area hospitals with radiation exposure. He said those who exposed themselves to the pellets could not contaminate others.
The cargo truck hauling the cobalt-60 was stolen from a gas station early on Monday in the neighboring state of Hidalgo, about 40km from where the material was recovered, Jimenez said. Authorities had put out an alert in six central states and the capital, looking for it.
The material had been removed from obsolete radiation therapy equipment at a hospital in the northern city of Tijuana and was being transported to a nuclear waste facility in the state of Mexico, which borders Mexico City.
Eibenschutz said there was nothing to indicate the thieves were after the cobalt or in any way intended it for a terrorist act. The thieves most likely wanted the white 2007 Volkswagen cargo vehicle with a moveable platform and crane, he said.
According to authorities, a truck marked "Transportes Ortiz" left Tijuana on Nov. 28 and was headed to the storage facility when the driver stopped to rest at a gas station in Tepojaco, Hidalgo State, north of Mexico City.
The driver told authorities he was sleeping in the truck when two men with a gun approached him. They made him get out, tied his hands and feet, and left him in a vacant lot nearby.
Eibenschutz said the transport company did not follow proper procedures and should have installed GPS and security with the truck.
"The driver also lacked common sense because he decided to park along a highway so he could sleep," he said.
The company that owns the truck could not immediately be located for comment. A Mexico City company called Transportes Ortiz said the truck was not theirs and they had nothing to do with the incident.
Comments will be moderated. Keep comments relevant to the article. Remarks containing abusive and obscene language, personal attacks of any kind or promotion will be removed and the user banned. Final decision will be at the discretion of the Taipei Times.