Lightning bolt sparks Venezuelan oil refinery blaze
A lightning bolt ignited fuel at an oil refinery east of Caracas on Sunday, sending giant columns of black smoke into the sky and forcing hundreds to evacuate.
Despite the dramatic scene there were no victims and the blaze was controlled just hours after it broke out, Venezuelan President Nicolas Maduro said in a message on Twitter.
The lightning struck the Petroleos de Venezuela (PDVSA) refinery of Guaraguao in Puerto La Cruz, in Anzoategui State, 220km east of the capital, Caracas.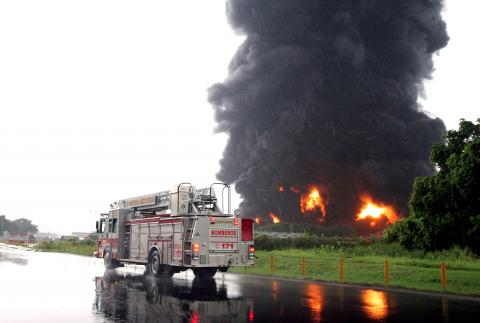 A fire engine heads to the refinery of Guaraguao in Puerto la Cruz, east of Caracas, Venezuala, on Sunday.
Photo: AFP
Anzoategui State Governor Aristobulo Isturiz said that all residents in a 1km radius of the fire were evacuated as a precautionary measure.
Asdrubal Chavez, PDVSA vice president for refining, said the lightning was a result of heavy rain pounding the region.
Chavez later said that the residents forced to leave their homes were allowed back, that the refinery suffered no major damage and that it continued to operate normally.
Last month, a fire broke out at unit in Amuay, the country's main oil refinery site in the state of Falcon.
Authorities said the blaze was quickly contained and that there were no victims.
However, last year a gas leak at Amuay caused an explosion that destroyed nine fuel tanks, killing more than 40 people and injuring more than 150.
Comments will be moderated. Keep comments relevant to the article. Remarks containing abusive and obscene language, personal attacks of any kind or promotion will be removed and the user banned. Final decision will be at the discretion of the Taipei Times.