Brazil police, protesters clash near stadium
UNREST: While Brazil beat Uruguay in the Confederations Cup, about 40,000 people protested against corruption and the high costs of hosting international sports events
Brazilian police fired tear gas on Wednesday to disperse protesters near a stadium hosting a Confederations Cup soccer semi-final, as Brasilia adopted measures aimed at calming two weeks of social unrest.
The unrest outside the venue in Belo Horizonte, where Brazil beat Uruguay 2-1, was the latest in a wave of anti-government protests staged in part to denounce the high costs of hosting the event and next year's World Cup.
The demonstrators — a week ago, 1.2 million people rallied nationwide — have also been demanding tougher penalties against corrupt politicians and better public services in the world's seventh-largest economy.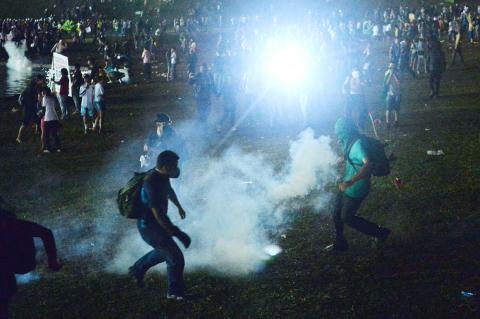 Demonstrators try to kick back a tear gas canister during a protest in front of the National Congress against government waste and corruption, and the use of public funds to organize international soccer tournaments in Brasilia, Brazil, on Wednesday.
Photo: AFP
On Wednesday, the protesters secured two new concessions from the leftist government of Brazilian President Dilma Rousseff, including senate backing of a bill that would amend the penal code to make corruption a "heinous crime."
Nevertheless, protests continued and labor unions pledged to go ahead with a day of strikes and work stoppages on July 11.
About 40,000 people flooded the streets of Belo Horizonte, Brazil's third-largest metropolitan area and the capital of Minas Gerais state — one of several protests nationwide.
Police said they used tear gas to disperse a small group of protesters who tried to remove metal barriers outside one of the access points leading to the Mineirao stadium.
Two car dealerships were ransacked and 24 people were detained for carrying gas masks, stones, knives and sticks, a police spokeswoman said.
Earlier in the day, demonstrators briefly blocked five roads and set a bus ablaze in suburban Belo Horizonte.
Demonstrations were also held in a dozen other cities, including Brasilia, where 4,000 people rallied outside the National Congress.
"We are putting pressure on the government and politicians and it worked," said Carolina de Moraes, a 17-year-old student.
The nationwide protests initially focused on a hike in transport fares before mushrooming to encompass a variety of gripes, including corruption and the lack of investment in health and education.
Beyond the senate backing for tougher penalties on corruption, protesters earned a victory from the Supreme Court, which ordered the immediate detention of lawmaker Natan Donadon, who was sentenced to 13 years in jail in 2010 for embezzlement — the first such move in 25 years.
In Brasilia, Rousseff huddled with leaders of the country's leading unions, which vowed to maintain their "day of struggle" set for next month even after the talks.
The unions are calling for a shorter work day, a readjustment of pensions and bigger investments in health and education as demanded by hundreds of thousands of Brazilians that have taken to the streets in recent days.
"The July 11 mobilization is being maintained and we reaffirmed this to the president," said Carmen Foro, vice president of the Unified Workers' Central, Brazil's main national trade union.
Rousseff, meanwhile, pressed on with her plans for a popular plebiscite on political reform to defuse public anger. She has also proposed to earmark US$25 billion for public transport and urged tougher penalties for those found guilty of corruption.
In other concessions to the protesters, the House of Deputies has backed a bill that would allocate 75 percent of oil royalties to education and 25 percent to health.
The government also announced plans to create 35,000 jobs in the public health sector, open to Brazilian doctors, but also foreigners if necessary.
Comments will be moderated. Keep comments relevant to the article. Remarks containing abusive and obscene language, personal attacks of any kind or promotion will be removed and the user banned. Final decision will be at the discretion of the Taipei Times.