Bhutan holding elections for second time in history
The tiny Himalayan country of Bhutan began electing a new parliament yesterday for only the second time in its history, five years after the Buddhist monarchy gave up its absolute power.
Voters were to first choose members of the upper house National Council yesterday, a non-party body, then in the following weeks will decide which of five parties will form the next government in the Bhutanese National Assembly.
Since the beginning of this month, the 67 candidates for the 20 elected National Council seats — five more members will be appointed by King Jigme Khesar Wangchuck — have been holding debates and public meetings in their respective districts after a local selection process.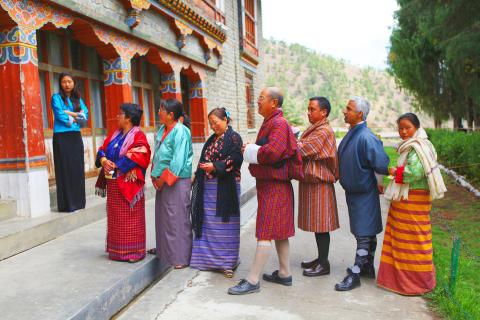 Bhutanese line up to cast their votes at a polling station in Thimphu yesterday, during Bhutan's second parliamentary elections.
Photo: AFP
In the more remote areas, villagers have walked for hours, or even days, to attend the forums and question the candidates at first hand, and election staff have made similar long treks to set up and staff polling stations in hamlets inaccessible by road.
Election officials made a fourth attempt on Monday to reach Lunana in the far north by means of Indian military helicopters after bad weather frustrated the first three tries.
Yesterday was declared a public holiday and Bhutan's land borders will be closed for 24 hours over the election period.
While interest is reported to be high, confusion persists about parliament's role in a hierarchical country with an illiteracy rate of about 50 percent, where for decades, the monarchy's word has been law and is still deeply revered.
There have also been grumblings about the obligation for the candidates to make their pitches in the national language, Dzhonka, which is one of half a dozen tongues spoken in Bhutan and not well understood in many rural areas.
The Bhutanese National Council, whose members have no party affiliation, monitors the actions of the government, reviews legislation and advises the king. It can also propose laws itself, provided they are not financial.
With an electorate of less than 400,000 and the use of electronic voting machines, results will be declared soon after the polls close, but will be no pointer to the National Assembly elections, whose dates have not yet been announced.
The center-right Druk Phuensum Tshogpa (DPT) party of Bhutanese Prime Minister Jigmi Thinley has governed Bhutan since winning a massive landslide victory in 2008. It took 45 of the 47 seats in the house against the People's Democratic Party (PDP).
This time round, three new parties are in the fray, two of them led by women, but there is little between them in their center-left stance and the requirement that all candidates must be graduates has caused them problems in their hunt for recruits.
Opinion polls are banned in Bhutan and analysts are thin on the ground, but the DPT is not expected to repeat its massive triumph of 2008. The country known abroad for its high-end tourism and unique yardstick of Gross National Happiness has seen huge development under the DPT government, but a wide income gap, youth unemployment and delinquency and urban migration are among the main issues expected to figure in the campaign.
The DPT also faces seeing key figures barred from standing, with Bhutanese Home Affairs Minister Minjur Dorji and Bhutanese National Assembly Speaker Jigme Tshultim appealing against recent convictions for corruption in a land allocation case dating back to before the last elections.
If their appeals are not heard, or not upheld, before the elections, the party will have to find new candidates. Bhutanese Information and Communications Minister Nandalal Rai could also be excluded for the alleged mishandling of large contracts for domestic airports.
Comments will be moderated. Keep comments relevant to the article. Remarks containing abusive and obscene language, personal attacks of any kind or promotion will be removed and the user banned. Final decision will be at the discretion of the Taipei Times.