Court rules against maids residency
FINAL SAY: A court had ruled that two domestic workers had the right to seek permanent Hong Kong residency, but the Court of Final Appeal has overturned the ruling
In a landmark decision, Hong Kong's highest court yesterday ruled against granting residency to two Philippine domestic workers, dashing the hopes of several hundred thousand other domestic helpers from ever gaining permanent residency in the territory.
Five judges at the Court of Final Appeal ruled unanimously that Evangeline Banao Vallejos and Daniel Domingo would not be allowed to settle permanently in Hong Kong after residing there for more than seven years, a period that would ordinarily qualify foreigners to become permanent residents under the constitution.
The court ruled that domestic workers should not be treated as "ordinarily resident" in the financial hub given contracts that tied them to finite temporary employment.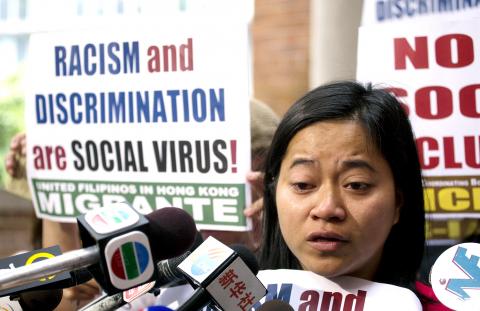 Indonesian Migrant Workers' Union chairperson Sringatin speaks to journalists during a protest outside the Court of Final Appeal in Hong Kong yesterday.
Photo: Reuters
"The nature of foreign domestic helpers' residence in Hong Kong is highly restrictive," the judgment said. "The foreign domestic helper is obliged to return to the country of origin at the end of the contract and is told from the outset that admission is not for the purposes of settlement."
A lower court had previously ruled that the Philippine pair had the right to seek permanent residency in the territory.
Over the past few years, the controversial legal battle has divided Hong Kongers over whether 286,000 domestic helpers — largely from the Philippines and Indonesia, but also other countries like Nepal, India and Pakistan — should be entitled to residency on a par with other foreigners.
A small group of migrant workers protested the ruling outside the historic red-brick courthouse, denouncing it as institutionalized discrimination.
"Today is a very sad day for migrant workers in Hong Kong," said Eman Villanueva, the head of Philippine advocacy group United Filipinos in Hong Kong. "It gave its judicial seal to unfair treatment and the social exclusion of foreign domestic helpers in Hong Kong."
The ruling also bars dependents of domestic workers from seeking residency in Hong Kong.
Critics say that the economic burden that would be caused by such an influx could have been huge, given education, housing, healthcare and welfare costs. One political party estimated that it could cost taxpayers an extra HK$25 billion (US$3.2 billion) per year.
Many Hong Kong families and expatriates consider having a maid essential, with many employing a live-in helper who cooks, cleans and helps with childcare. However, maids are excluded from a minimum wage and other basic services.
Despite the government's victory, lingering ambiguity over eligibility for permanent residency in Hong Kong as stipulated in the Basic Law, the territory's mini-constitution, could trigger further legal battles in the future.
Hong Kong, a former British colony that returned to Chinese rule in 1997, has always had an uneasy relationship with immigration and right of residency issues that have sometimes strained its ties with Beijing.
A 1999 case which ruled that China-born children had a right of abode in Hong Kong sparked an outcry over Beijing's perceived meddling in the territory's judicial independence.
The government had asked Hong Kong's highest court to seek Beijing's clarification on precisely who qualifies for right of abode in a bid to resolve the issue, but the court of final appeal rejected this request.
Comments will be moderated. Keep comments relevant to the article. Remarks containing abusive and obscene language, personal attacks of any kind or promotion will be removed and the user banned. Final decision will be at the discretion of the Taipei Times.