Pakistan PM to meet Shiite protesters
Pakistani Prime Minister Raja Pervez Ashraf arrived yesterday in the southwestern Pakistani city of Quetta to meet Shiite Muslim families refusing to bury their dead after devastating bombings, officials said.
At least 92 people were killed and 121 wounded on Thursday in twin suicide attacks claimed by Sunni militant group Lashkar-e-Jhangvi in an area dominated by Shiites from the Hazara ethnic minority.
It was the worst-ever sectarian attack on Shiites, who account for about 20 percent of Pakistan's 180 million people and are regularly targeted by Sunni extremists.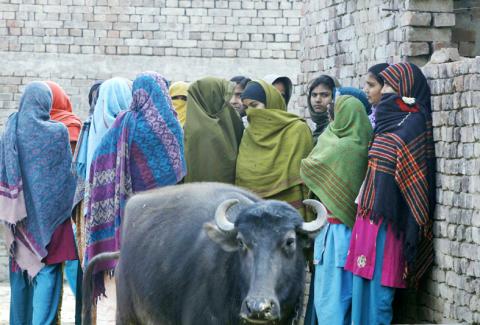 Shiite families have refused to bury their dead and vowed to continue a sit-in protest with thousands of others until the Pakistani Army takes over security in the city. They have been sitting in the open with the bodies for the past 48 hours.
Refusal to bury the dead is an extreme protest in Islamic society, where the deceased are normally buried the same or the next day.
However, families say they will not leave until the authorities agree to put the security and administration of the city under army control.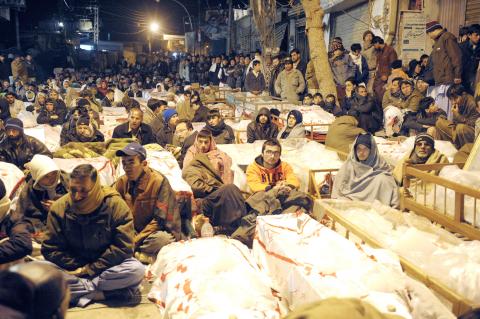 Shiite Muslims on Saturday demonstrate by sitting among the coffins of victims of last Thursday's twin bomb attacks in Quetta, Pakistan.
Photo: AFP
"[Pakistani] Prime Minister Raja Pervez Ashraf has arrived in Quetta, he will meet the leaders of the Hazara community," a senior government official told reporters on condition of anonymity.
A foreign reporter said up to 8,000 people, including children, had gathered at the protest and faced a cold night in the open with the coffins of more than 60 of the dead.
"Quetta has become a killing field and we are protesting to stop target killings," said a protester who identified himself as Ali Raza.
Hazara Shiites elder Nadir Ali said Ashraf should sack the provincial government and impose federal rule in Baluchistan Province, of which Quetta is the capital, handing over security to the army.
"We will not hold talks with anyone from the provincial government because they have never listened to us in the past despite a spate of killings. We will talk to the prime minister only and demand imposition of governor's rule," he said.
Rallies were held in several cities, including Karachi, Lahore, Multan, Gujranwala, Muzaffarabad and Rawalpindi, to express solidarity with the Hazara community and several political parties marked yesterday as a day of protest.
The provincial government in Baluchistan, where security forces are also fighting a separatist insurgency, announced three days of mourning after the bombings outside a snooker hall.
Comments will be moderated. Keep comments relevant to the article. Remarks containing abusive and obscene language, personal attacks of any kind or promotion will be removed and the user banned. Final decision will be at the discretion of the Taipei Times.