Japan seeks opportunity in Myanmar
IN FROM THE COLD: The growing regional importance of Myanmar was demonstrated as Japan confirmed that it would waive some debt as it vies with Western investors
Japan's Deputy Prime Minister Taro Aso confirmed fresh financial aid for Myanmar on Friday during a visit to an industrial zone that underlined the long-isolated nation's growing importance as an economic partner.
With a land mass as large as Britain and France combined, Myanmar shares borders with 40 percent of the world's population in India, China, Bangladesh and Thailand.
Burmese President Thein Sein's quasi-civilian government has enacted reforms since it took over from a long-ruling military junta nearly two years ago.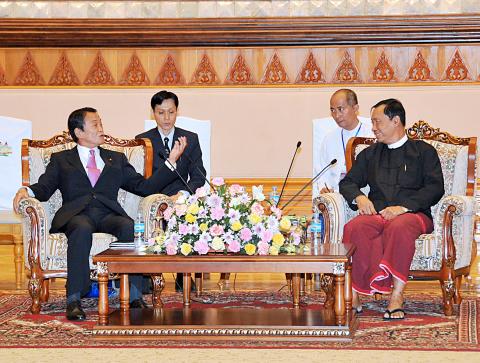 Japan's Deputy Prime Minister Taro Aso, left, talks with Burmese Lower House Speaker Shwe Mann at the parliament in Naypyidaw, Myanmar, on Thursday.
Photo: EPA
Aso, who is also Japan's finance minister, chose the country for his first official visit abroad just a week after taking up the position.
His visit sets the stage for Japanese firms to gain privileged access to Myanmar as Western competitors move in slowly after years of economic sanctions.
"I can feel Myanmar has very big potential. It is our intention to support its development through private-public partnership," Aso said as he visited Thilawa, a US$12.6 billion, 2,400 hectare special economic zone and centerpiece of Japan-Myanmar relations.
Mitsubishi Corp, Marubeni Corp and Sumitomo Corp form the Japanese side of the joint development of the industrial park. The plan is to build the first 400 hectares by 2015 and start luring Japanese and global manufacturers.
Aso confirmed during the visit that Tokyo would waive part of Myanmar's ¥500 billion (US$5.74 billion) debt and make a fresh loan of ¥50 billion, partly to kick-start construction of Thilawa.
"The Myanmar side has thanked us for waiving their debts many times," Aso told reporters in Yangon. "I hope this will serve as a first step in boosting Myanmar's economic development."
Aso, a senior member of the Japan-Myanmar Association, had arranged the visit before he was appointed, but took many by surprise with his decision to go despite a busy domestic agenda.
Aiming to offset the economic impact of Tokyo's frayed relations with Beijing, Japanese Prime Minister Shinzo Abe's new administration has been reaching out to other Asian neighbors, pledging to send special envoys to improve ties with both South Korea and Russia.
Myanmar is still re-working its laws governing special economic zones after passing new foreign direct investment laws last year. Officials hope Thilawa will bring employment to the job-starved country, helping it stabilize during a period of social and economic upheaval.
"With the help of Japan and its technology, we will be able to create jobs for the people and enter a new age of economic development," said Win Aung, who heads the Myanmar side of the consortium.
Japan is also investing in an economic zone in Dawei, where the largest industrial complex in Southeast Asia is on the drawing board.
Comments will be moderated. Keep comments relevant to the article. Remarks containing abusive and obscene language, personal attacks of any kind or promotion will be removed and the user banned. Final decision will be at the discretion of the Taipei Times.