China's military pledge loyalty to Xi
UNDIVIDED: The People's Liberation Army showed its happiness with Chinese President Hu Jintao's decision to hand control of the military to new leader-in-waiting Xi Jinping
China's massive military pledged its loyalty to new Chinese Communist Party (CCP) leader Xi Jinping (習近平) yesterday, while reiterating its mission to follow the party's "absolute leadership," despite scattered calls for it to come under government control.
The men and women of the 2.3 million-member People's Liberation Army also thanked Chinese President Hu Jintao (胡錦濤) and other outgoing leaders for their guidance over the past decade. That was a reflection of the military's happiness with Hu's decision to hand the chairmanship of the party commission that oversees the military to Xi, rather than holding on to it for two years as his predecessor, former Chinese president Jiang Zemin (江澤民), did.
The "military will absolutely take orders from the party center, the military commission and commission chairman Xi Jinping, and be absolutely loyal and reliable," an editorial in the official People's Liberation Army Daily said.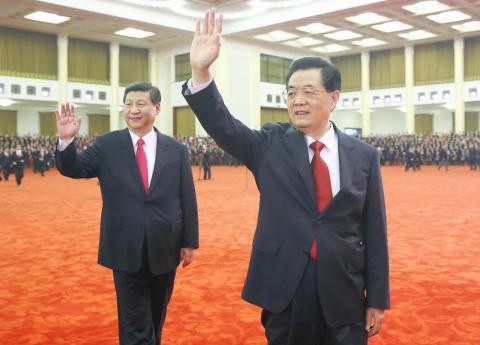 Chinese President Hu Jintao, right, and Xi Jinping, newly elected general secretary of the Central Committee of the Chinese Communist Party (CCP) and chairman of the CCP Central Military Commission, wave to delegates at the Great Hall of the People in Beijing, China, on Thursday.
Photo: Reuters
Xi became chairman of the CCP military commission on Thursday, the same day he took over as party leader from Hu, who is to retain the title of state president until next spring, when he is scheduled to hand it over to Xi.
Hu's decision to step down from the military commission surprised many and won plaudits from the military, which had in the past expressed concerns about divided leadership.
Meanwhile, CCP Propaganda Department Director Liu Yunshan (劉雲山) has risen to the country's top leadership in what could be a perilous sign for online debate, critics of his censorship diktats over the past decade said yesterday.
China's population of Internet users — the world's largest at 538 million — have become increasingly vocal on its booming social media sites, despite the efforts of the highly secretive department.
In China Twitter itself is blocked, but "weibos," or microblogging sites, function in a similar way, and authorities tightened their suppression efforts for the pivotal CCP congress in Beijing this week.
During the meeting, searches for "party congress" on Sina Weibo, China's most popular microblog, returned a blunt message: "Due to relevant laws, policies and regulations, the results of your search are not displayed."
Google — which removed its search servers from China in 2010 in a row over user accounts being hacked, so that google.com now redirects Chinese visitors to an uncensored site in Hong Kong — was periodically blocked during the congress.
After the meeting ended, Liu, 65, was named as a member of China's top decision making body, the seven-member CCP Politburo Standing Committee.
"Internet policing was a new policy introduced by Liu," said Dai Qing (戴晴), a dissident writer and former journalist. "The government has spent huge amounts of money on controlling content online."
"Liu's appointment has reduced our hopes that citizens will be allowed to monitor their government and spread information freely over the next decade," she added.
In the past weibo users have exposed corruption by low-level officials, and the microblogs were an outlet for fierce criticism of government functionaries after a deadly rail crash last year.
However, the Propaganda Department has maintained constant pressure on Web site administrators to remove politically sensitive content, or risk losing their business licenses.
Comments will be moderated. Keep comments relevant to the article. Remarks containing abusive and obscene language, personal attacks of any kind or promotion will be removed and the user banned. Final decision will be at the discretion of the Taipei Times.