Egypt's standoff between president, prosecutor ends
'A MISUNDERSTANDING': Morsi backed down on removing Prosecutor General Abdel-Meguid Mahmoud, which he could not do by law and which the judiciary opposed
Egypt's new president backed down on Saturday from his decision to remove the country's top prosecutor, keeping him in his post and sidestepping a potential clash with the country's powerful judiciary.
The two-day standoff between Egyptian President Mohamed Morsi and Prosecutor General Abdel-Meguid Mahmoud escalated with a backlash from a powerful group of judges who said Morsi's move had infringed upon their authority.
The standoff, which both sides later described as a "misunderstanding," exposed the enduring strength of an establishment packed with holdovers from the days of former Egyptian president Hosni Mubarak, and underlined Morsi's limitations in challenging long-standing institutions.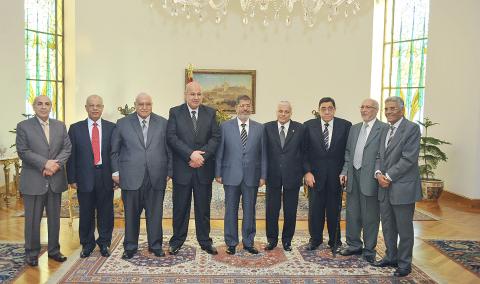 Egyptian President Mohamed Morsi, center, Egyptian Vice President Mahmoud Mekky, fourth left, and Egyptian Prosecutor General Abdel-Meguid Mahmoud, third right, pose with unidentified personnel in Cairo on Saturday.
Photo: Reuters
Some of those who had urged the dismissal of Mahmoud, in the post since Mubarak times, said Morsi's move was clumsily handled and appeared as political score-settling between Islamists and former regime officials, rather than the sweeping reform so many are calling for in Egypt.
Though Morsi's decision had considerable public support, it appeared similar to his move to restore the Islamist-dominated parliament to session despite a decree by the Supreme Constitutional Court, which dissolved it over election law violations. He backed down after an uproar over ignoring court rulings.
Morsi had ordered Mahmoud to step down on Thursday in an apparent bid to appease public anger over the acquittals of former regime officials a day earlier accused of orchestrating violence against protesters last year.
Egyptian law protects the prosecutor general from being fired by the president. To overcome the constraints, Morsi asked Mahmoud to become ambassador to the Vatican.
However, Mahmoud refused to be reappointed and quickly defied Morsi's decision.
Backed by a powerful club of judges who said that the move was an infringement on the judiciary, he went to his office on Saturday in defiance, accompanied by a tight security escort and hundreds of supporters.
Hours later, Mahmoud and members of the country's Supreme Judicial Council met with Morsi's advisers.
"I remain in my post. We resolved the problem amicably," Mahmoud said after the meeting. "We told him I wanted to stay and that there was a misunderstanding. He didn't object."
Egyptian Vice President Mahmoud Mekki said initially the president wanted to protect the prosecutor general from public pressure and protests, and then canceled the transfer to avoid "sedition."
"Some politicians are trying to push the judiciary into the political battlefield," Mekki said. "We were surprised by those voices raised to defend the independence of the judiciary. Now those accused of infringing on the judiciary's independence are the ones who had long defended it."
He said the decision was initially made to avoid popular anger following the Wednesday acquittal of Mubarak loyalists over their alleged role in a turning point of last year's uprising, known as the "Battle of the Camel," when camels ridden by Mubarak supporters charged into an opposition crowd.
After the meeting with Morsi, hundreds of judges came out to congratulate Mahmoud at his office.
The head of the powerful Judges Club, Ahmed el-Zind, who had rallied behind Mahmoud, said a "face saving" statement is to be issued from both sides.
"What we care about is that we assert that the judiciary is a red line which we will not allow anyone to cross," he told attorneys and judges.
The move to remove the prosecutor general presented Morsi with a dilemma: If he moved too aggressively against Mahmoud, it would have fed into criticisms that he is exceeding the powers of his office. If he had moved too slowly, it would have fueled accusations that he is failing to address the goals of last year's uprising that overthrew Mubarak.
Comments will be moderated. Keep comments relevant to the article. Remarks containing abusive and obscene language, personal attacks of any kind or promotion will be removed and the user banned. Final decision will be at the discretion of the Taipei Times.