Trudeau boxes clever to defeat senator
Canadian politics is more rough and tumble than the country's reputation for civility might suggest. At times it can be downright bruising — literally — as demonstrated by the celebrity son of Pierre Trudeau, Canada's Liberal prime minister during the go-go 1960s.
Justin Trudeau, a Liberal Member of Parliament in his own right, climbed into an Ottawa boxing ring on Saturday night and delivered an upset, thrashing to his Conservative adversary, Senator Patrick Brazeau.
The bout, staged for an Ottawa cancer charity, was more than a good-natured publicity stunt. The combatants were to have gone toe-to-toe for three, two-minute rounds under Olympic rules in a match sanctioned by Boxing Canada, but Brazeau suffered a technical knock-out with half a minute to go in the third.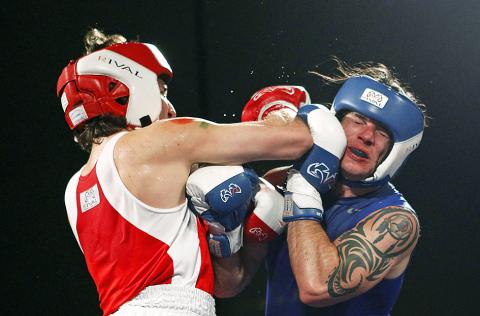 Liberal Member of Parliament Justin Trudeau, left, and Conservative Senator Patrick Brazeau fight during their charity boxing match in Ottawa on Saturday.
Photo: Reuters
While both politicians said the event was about fund-raising, they had engaged in a heated Twitter exchange in the May 2011 election and there was plenty of trash talk ahead of the match.
Brazeau — a strapping, tattooed Aboriginal leader from northern Quebec who has a background in martial arts — let it be known at Wednesday's pre-fight weigh-in that he would prefer dispatching his reedy Liberal opponent by knock-out.
"He hits hard. He actually had me seeing stars for a couple of the shots," Trudeau told the crowd, which included at least three Cabinet ministers and a number of parliamentarians.
However, Trudeau's greater height and stamina, and 20 years more experience in sparring, proved too much for Brazeau as he had him on the ropes a number of times with a series of punishing blows.
"I proved a Liberal can take a punch. I proved that we're not people that can be counted out, even though we seem nicer and a little more touchy-feely," Trudeau said.
The Liberals suffered their worst defeat ever in last year's election, being relegated to third place in the House of Commons for the first time.
The long-haired Brazeau, 37, was appointed to the Senate by Conservative Prime Minister Stephen Harper, whose right-of-center policies the outspoken Trudeau abhors.
In the event, Trudeau — showing his father's flair for self-promotion — effectively scored a double win, trouncing Brazeau and also burnishing his image as a feisty upstart willing to stand up for a cause.
Trudeau, a boyish-looking 40-year-old who represents a district in Montreal, has proved in the past he is not afraid of controversy. He touched off a minor political tempest last month when he said he might, under certain circumstances, back a separate Quebec if Harper pushed Canada too far down the Conservative path.
Coming from the son of the man who championed the ideal of a unified Canada — including his native Quebec — the younger Trudeau's remarks struck many Canadians as political blasphemy.
In the ring on Saturday night, it was not nearly as close for Trudeau, and Brazeau's penalty is that he will have to wear a loathed Liberal jersey for the coming week in and around parliament.
"A picture of myself in a Liberal jersey, yeah, that's going to sting more than losing this boxing match," Brazeau said.
The event raised C$230,000 (US$230,334) for the Ottawa Regional Cancer Foundation.
Comments will be moderated. Keep comments relevant to the article. Remarks containing abusive and obscene language, personal attacks of any kind or promotion will be removed and the user banned. Final decision will be at the discretion of the Taipei Times.