Sinn Fein now Ireland's second-favorite party: poll
Sinn Fein, the former political wing of guerrilla group the Irish Republican Army (IRA), is Ireland's second-most popular political party, a newspaper poll showed yesterday, in a blow for the country's coalition government.
Sinn Fein, whose members were officially banned from speaking on Irish media until 1993, have pushed junior coalition partner, the Labour Party, into third place as its populist attacks against austerity measures imposed as part of an EU-IMF bailout strike a chord with left-leaning voters.
Sinn Fein also has benefited from the entry of Martin McGuinness, a former IRA commander and leading negotiator for peace in Northern Ireland, into the election for Ireland's presidency, which will be held on Oct. 27.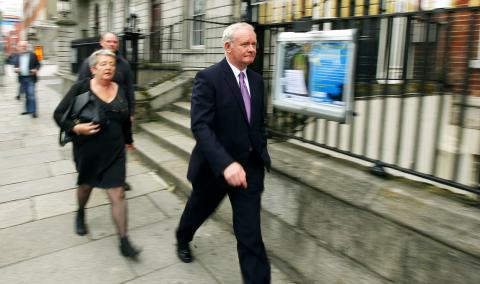 Sinn Fein's Martin McGuinness arrives for a news conference at the Dublin Writers Museum in Dublin, Ireland, on Sept. 18.
Photo: Reuters
The Irish Times/Ipsos MRBI poll showed Sinn Fein's rating had jumped 8 percentage points since the last survey in July to 18 percent. The Labour Party's standing dropped one point to 17 percent.
Prime Minister Enda Kenny's center-right Fine Gael party was down three points to 35 percent. Kenny's satisfaction rating was down two points to 51 percent, but he remains the country's most popular leader.
The Labour leader, Eamon Gilmore, saw his satisfaction rating drop two points to 42 percent. Sinn Fein's Gerry Adams's rating rose five points to 36 percent.
Kenny's government, which swept into office in March, enjoys a record parliamentary majority and has impressed investors with its adherence to its bailout targets.
However, a continuing slide in support for Labour, to the benefit of Sinn Fein, could cause concern among Labour backbenchers and make it more difficult to push through unpopular measures such as the sale of state assets and welfare cuts.
Comments will be moderated. Keep comments relevant to the article. Remarks containing abusive and obscene language, personal attacks of any kind or promotion will be removed and the user banned. Final decision will be at the discretion of the Taipei Times.