FEATURE: Royal wedding fever grips tiny kingdom of Bhutan
The royal dress weavers are at work and excitement is building in Bhutan ahead of next month's royal wedding that will see the young king of the Himalayan nation wed in a fairy-tale ceremony.
The Oxford-educated biking fanatic Jigme Khesar Namgyel Wangchuck, 31, who was crowned in 2008 at the start of democracy in the Buddhist-majority country, is set to marry student Jetsun Pema, a commoner, on Oct. 13.
Organizers have promised a low-key affair from a royal family that is famed for its common touch, but the Bhutanese are gearing up to mark a momentous occasion in the life of the reclusive kingdom between China and India.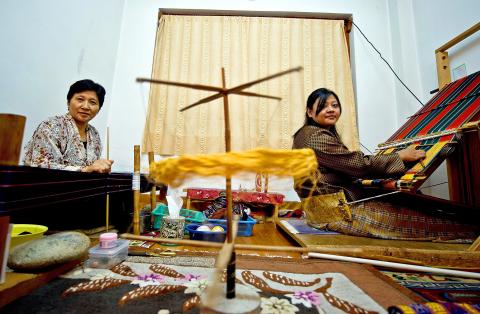 Traditional weaver Kelzang Choden, right, and her mother, designer Kuenzang Wangmo, make traditional "kira" at their home in Bhutan's capital Thimphu.
Photo: AFP
In their apartment in the capital Thimphu, weavers Kelzang Choden and her mother are hurriedly working on an outfit for the future queen, an intricately patterned dress of geometric shapes dominated by gold thread and yellow.
"She will wear according to her element. There are five elements in our culture. For example, red is fire and earth is yellow," Choden said. "Her element is earth so it will probably be mostly yellow."
Pema, 21, has ordered numerous kira, the elegant national dress for women made from raw silk that takes months to finish and can cost up to US$3,000. Several famed weavers are competing for the honor of clothing her on the big day.
"It would be the biggest privilege," said Choden, whose mother Kuenzang Wangmo has designed outfits for the previous king and his four wives, as well as the younger sister of the present king.
Bhutan, famed for its invention of "Gross National Happiness" to measure progress and its citizens' well being, is one of the most remote and insular places on Earth.
It had no roads or currency until the 1960s, allowed television only in 1999 and continues to resist the temptation of allowing mass tourism — preferring instead to allow access to only small, organized groups of well-heeled visitors.
The main wedding ceremony will take place in a fortress and monastery in the town of Punakha, set in a steep valley at the confluence of two fast-running mountain rivers.
The giant building, accessible by footbridge and intricately decorated with wall paintings and carvings, is being spruced up for the occasion, with work underway in the gardens and fresh paint in evidence.
"His Majesty has been consistent all along that the events should be simple and traditional. It's how he operates in his own life," royal spokesman Dorji Wangchuck said.
"He has never been in favor of extravaganzas," the spokesman said, adding that no foreign royals or heads of state had been invited.
King Wangchuck, a keen basketball player and Elvis fan, and four of his forebears have ruled Bhutan since 1907 when the royal family took over and brought stability to the previously war-ravaged nation.
The monarch lives in a cottage in Thimphu rather than a palace, and is famed for inviting his subjects to tea. Among his most recent guests were members of the Thimphu weight-lifting club.
The main celebration will be held in the capital on Oct. 16 where members of the public will get the opportunity to glimpse the newlyweds in a ceremony at the city's sports stadium.
It promises to be a spectacle of traditional dance and music, but the Bhutanese themselves will be part of the show as they wear their finest traditional clothing, which is compulsory in government offices.
Many choose to wear the dress — kira for women and gho for men — in everyday life as a statement of national pride, but a royal wedding calls for even more elaborate dressing-up.
At The Traditional Boot House in Thimphu, manager Tshering Tobgay says average daily orders have doubled since the king announced his intention to marry in May.
Tobgay and his half-dozen team are working frantically in a bid to clear the backlog for their colorful knee-length boots which are worn on special occasions.
"Everyone is working overtime until 9 to 10pm at night," he said.
Comments will be moderated. Keep comments relevant to the article. Remarks containing abusive and obscene language, personal attacks of any kind or promotion will be removed and the user banned. Final decision will be at the discretion of the Taipei Times.