Crowds cheer for Monaco's Prince Albert and new bride after religious ceremony
STAR-STUDDED: The ceremony was described as 'very moving' by model Naomi Campbell, and the newlyweds were showered with rose petals as they left the palace
With a wink and a smile, Monaco's ruler Prince Albert II married South African swimmer Charlene Wittstock on Saturday in a ceremony attended by a who's who of European royalty and the international elite.
The 53-year-old married Wittstock, 33, in the courtyard of his palace at the foot of a vast white-marble double staircase lined with white flowers. About 3,500 guests sat outside to watch the service on giant TV screens.
Albert's sisters, Princesses Caroline and Stephanie, both dressed in pink, smiled as they watched the couple marry in front of a crowd that included French President Nicolas Sarkozy, Chanel designer Karl Lagerfeld and opera singer Renee Fleming.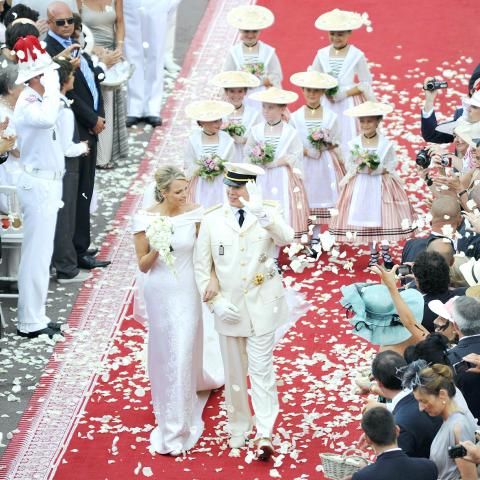 Prince Albert II of Monaco and his wife, Charlene, leave the prince's palace after their religious wedding on Saturday in Monaco.
Photo: AFP
The long white train of Wittstock's Giorgio Armani duchess satin gown, encrusted with thousands of tiny crystals, spilled over the red carpet. The groom wore the white dress uniform of Monaco's Carabinieri royal guard.
"It was very elegant, very moving," supermodel Naomi Campbell, in a one-shouldered pale green dress, told TFI television.
After they exchanged vows, Albert winked at his bride, who smiled shyly. Sitting on red velvet chairs, they held hands as a South African singer sang the Click Song, made famous by the late Miriam Makeba.
The wedding is the first of a -ruling prince in Monaco since Albert's father, Prince Rainier III, married Hollywood star Grace Kelly in 1956. Rainier transformed Monaco from a faded gambling center into a billionaires' haven, using his marriage to Kelly to infuse the tiny principality with film-star glamor.
The couple married in a civil ceremony in the palace throne room on Friday.
Wittstock, whose champagne blonde hair and sculpted figure draw comparisons with Kelly, is a former national champion swimmer who stopped competing only four years ago. Albert met Wittstock at a swimming competition in 2000.
"I think she's beautiful and she shows a lot of class and nobility and I think he made a wonderful choice," said Steven Pomeranz, who had lined up to cheer the couple.
After the ceremony, well-wishers showered the newlyweds with rose petals as they left the palace. Church bells pealed and horns sounded from the yachts docked in Monaco's port.
Crowds lined their route, waving flags in Monaco's red-and-white colors as the couple drove to a nearby chapel, where a tearful Wittstock left her bouquet.
The couple headed off to a wedding dinner prepared by chef Alain Ducasse, to be followed by a ball at the Monte Carlo opera and fireworks.
Comments will be moderated. Keep comments relevant to the article. Remarks containing abusive and obscene language, personal attacks of any kind or promotion will be removed and the user banned. Final decision will be at the discretion of the Taipei Times.