Fendi launches fashion line on Seoul floating island
FUR PROTEST: About 100 rights activists chanted anti-fur slogans as models and guests walked into the venue for Fendi's second-ever show in Asia
Brushing off controversy over its use of fur, luxury brand Fendi launched its fall and winter fashion line on a large manmade island in Seoul to highlight its creativity.
Models showing Fendi's new collection, including the Italian fashion house's signature fur items, strutted down the catwalk as hundreds of celebrities, guests and journalists watched what was Fendi's second-ever show in Asia on Thursday.
"We don't do shows just to do shows. We don't do shows to repeat what we showed in Milan," Fendi CEO Michael Burke said.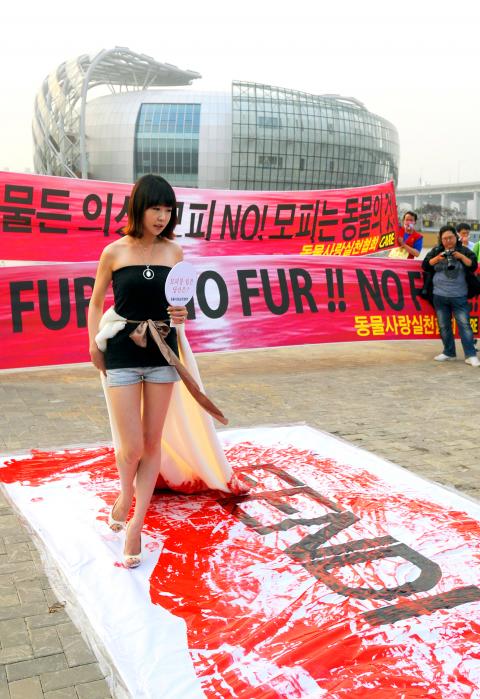 A South Korean animal rights activist performs on a mock catwalk smeared with red paint outside the venue for Italian fashion house Fendi's fashion show in Seoul on Thursday.
Photo: AFP
"If we're going to do a fashion show, it has to be something noble, innovative, creative and sometimes risky. We like that. There's no creativity without risk," he said.
However, Fendi's journey to the launch on the world's largest artificial "floating island" — unveiled less than a month ago — was far from easy.
The Seoul government, which is in charge of the island in the Han River, demanded that fur be excluded from the show in response to protests from anti-fur activists about the use of a public venue.
Fendi countered that, with only weeks to go, it was too late to change the plans for a show that usually takes months of planning and a substantial budget.
Eventually Fendi introduced a greater variety of items, including bags, shoes and other accessories, in an attempt to diminish the focus on fur.
It also said it would provide scholarships for young South Korean designers and sponsor design contests for college students, with an internship provided to the winners.
"Being able to do this show on the floating island ranks up there as one of the very best and unique and authentic events we've done," Burke said, adding that the show wasn't only about fur.
"Of course, a fashion house like Fendi also does fur, so of course there are going to be some fur pieces ... Some people had said it would be a fur show, which was obviously not as you can see," he added.
However, animal rights activists were unconvinced, with about 100 protesters gathering in front of the island.
Chanting anti-fur slogans as models and guests walked into the venue, they also soaked fur items with red paint and displayed a banner with "Fendi" written on it, along with lurid sprays of red paint and a paint-soaked stuffed animal.
"We're furious that Fendi has brought fur into this country and makes people buy them when people abroad have turned away from fur," activist Park So-yeon said.
"We're earnestly hoping that as a global luxury brand, Fendi will develop varied items besides fur," she said.
Fendi is a unit of the French luxury conglomerate LVMH. Its previous Asian show was in 2007, at China's Great Wall.
Comments will be moderated. Keep comments relevant to the article. Remarks containing abusive and obscene language, personal attacks of any kind or promotion will be removed and the user banned. Final decision will be at the discretion of the Taipei Times.