Sex business is booming in Singapore
Standing outside a harmless-looking two-story terrace house, a middle-aged man with a balding pate and wispy white goatee greets people walking by with a constant refrain.
"You want to see my girl? Come in, come in!" he exhorts every man in sight, pointing to skimpily clad Asian prostitutes waiting in a softly-lit sitting room along a back street in Geylang, Singapore's red-light district.
The tout says more than 50 customers patronize his business daily.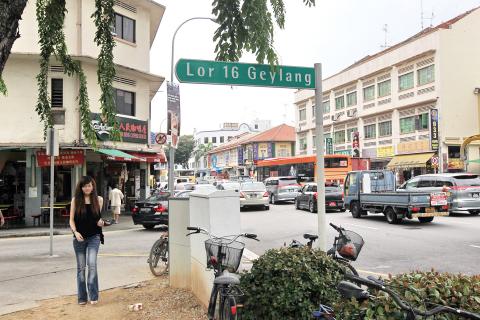 Geylang, one of the largest and most famous red-light districts in Singapore, is pictured on Dec. 13.
Photo: AFP
"Our customers are international, anybody can come as long as they can pay," he says, brushing aside a reporter's suggestion that the police might not approve of his operation.
"We're legal!" he scoffs loudly.
Despite its prudish reputation — the government still bans magazines like Playboy and Penthouse — Singapore allows prostitution to thrive in strictly designated areas, and Geylang is the largest and most famous.
Brothels operating out of houses operate in the district alongside budget hotels, sidewalk cafes, community associations and even Buddhist temples.
Despite the presence of legal prostitution, foreign women on short-term visitor passes also ply their trade on the streets and lanes of Geylang, and there seems to be enough business for everyone.
More than a fifth of the city-state's population of 5 million are foreigners, the majority of them blue-collar and manual workers.
And 1 million tourists a month now visit Singapore thanks to a booming casino industry.
The local sex trade came under the spotlight in June last year when the US Department of State downgraded Singapore in its Trafficking in Persons Report.
The report said some women from China, the Philippines and Thailand were tricked into coming to Singapore with promises of legitimate employment and then coerced into the sex trade after arrival.
Singapore authorities issued an indignant reply, saying their efforts to curb trafficking had not slackened and asked the US government to look at its own immigration record before commenting on other countries' situations.
In Geylang's licensed brothels, customers pay an average of S$50 (US$38) for sex inside cramped cubicles, according to operators who spoke on condition of anonymity.
Their primary customers are guest workers from China, Bangladesh and Southeast Asia.
Business is best on weekends when hordes of foreign men on their day off throng its narrow lanes looking for fun.
Like other businesses in Singapore, the sex trade has clear rules.
Brothels can only hire Malaysian, Thai and Chinese girls between the ages of 21 and 27, one tout said.
Prostitutes are also required to make customers wear condoms and report for monthly medical check-ups, he added.
Streetwalker Dan Dan (not her real name) from Beijing said an increased presence of plainclothes police was deterring customers from taking up her US$100 "guaranteed good" service.
Foreign women like Dan Dan who work freelance in the sex trade and bring customers to motel rooms cannot be arrested unless they are caught offering their services out in the street, or violate immigration and other laws.
Local women's rights activist Braema Mathi advocates protection of prostitutes in Singapore and closer regulation of the industry.
"All we want is for the women to be protected and not judge them for the work that they have decided to take on," she said.
"We believe that one of the better ways to protect women is to ensure that they work in licensed brothels, where there is a fee structure and condoms," she said.
With a regulated sex industry, Singapore authorities can turn their attention to women forced into prostitution, she said.
Comments will be moderated. Keep comments relevant to the article. Remarks containing abusive and obscene language, personal attacks of any kind or promotion will be removed and the user banned. Final decision will be at the discretion of the Taipei Times.