Man jailed for Pearl murder likely to be released: US report
PROOF: The CIA and FBI have confirmed that Khalid Sheik Muhammad killed Pearl by matching veins on his hands with those of the man in the execution video
A new investigation into the death of US journalist Daniel Pearl says that the British jihadist jailed for his murder is likely to be released, because Pakistani officials used tainted evidence.
The report, by a collective of investigative journalists from the US, asserts that Pakistani prosecutors knowingly used perjured evidence to suggest that Omar Saeed Sheikh and three other men were in the room when the Wall Street Journal reporter was executed in 2002.
US officials have found evidence based on "vein analysis" that the killing was carried out by the self-confessed Sept. 11 mastermind, Khalid Sheikh Muhammad, who is in Guantanamo Bay. Muhammad confessed to the murder in 2007, but lawyers said his testimony was tainted by torture and he has not been charged.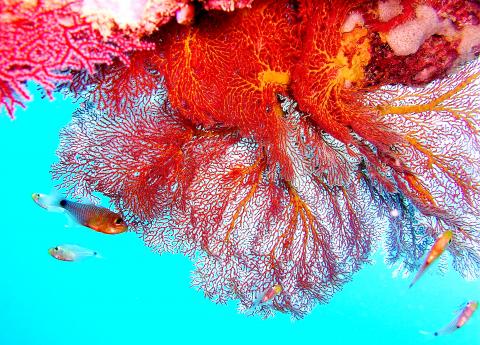 An undated picture released by the WWF environmental group on Feb. 22, 2006, shows an area of a newly discovered reef in Thailand's southern Phang-Nga Province.
Photo: AFP/WWF/HO
However, the author of the report, Asra Nomani, said there was little doubt that Sheikh, now 37 and facing a death sentence, was behind Pearl's initial kidnapping.
Sheikh's appeal has been pending for nine years in Pakistan and shows no sign of taking place soon. There have been repeated reports that, thanks to his connections with Pakistan's ISI spy agency, he enjoys privileged conditions in jail.
The Pearl Project, compiled by Nomani and 32 students at a Washington journalism college, gives the most comprehensive account yet of Pearl's kidnapping and death. It describes a sprawling operation characterized by bungling and confusion, involving at least three militant groups.
Pearl was initially abducted by Pakistani militants commanded by Sheikh, it says, but he quickly passed into the hands of al-Qaeda operatives led by Muhammad.
CIA and FBI officials confirmed that Muhammad killed Pearl, the report says, by matching veins on his hands with those of the figure in the execution video.
Pearl's widow, Mariane, who gave birth to his child months after his death, declined to comment on Thursday.
"I am not ready ... yet," she e-mailed the Guardian.
Her account of the kidnapping was dramatized in the 2007 Hollywood movie A Mighty Heart, starring Angelina Jolie.
Of the 27 people involved in the kidnapping, four have been convicted, four are in suspected ISI detention, five have died and 14 are still free, Nomani said.
Comments will be moderated. Keep comments relevant to the article. Remarks containing abusive and obscene language, personal attacks of any kind or promotion will be removed and the user banned. Final decision will be at the discretion of the Taipei Times.