Smart dog learns over 1,000 words
She just might be the smartest pooch ever.
A border collie has learned more than 1,000 words, showing US researchers that her memory is not only better than theirs, but that she understands quite a bit about how language works.
Chaser learned the names for 1,022 toys, so many that her human handlers had to write on them in marker so that they wouldn't forget, said study co-author Alliston Reid, a psychology professor at Wofford College in South Carolina.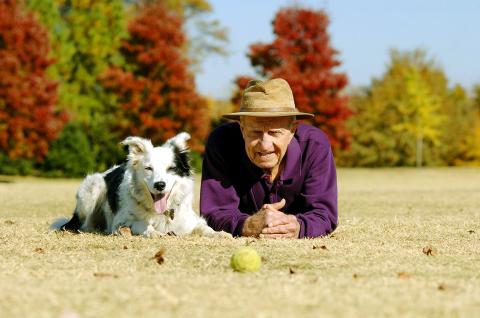 Chaser the border collie sits with John Pilley in this undated handout photo obtained on Friday.
PHOTO: AFP
With that repertoire, Chaser has far outpaced another dog, Rico, found by German researchers to be able to grasp about 200 words, according to a study published in 2004 in the journal Science.
As a border collie, Chaser comes from a breed of herding dog known for its intelligence, energy and strong work ethic.
Reid said she might be able to learn even more words, but her keepers stopped at 1,022 after three years of training simply because of time constraints.
However, identifying objects by name was just the beginning of the research, conducted by a pair of US psychology professors who became curious about the upper limits of a dog's learning abilities after seeing the German study.
Study co-author John Pilley was also a master animal trainer and just happened to be getting a young border collie as a pet at about the same time as the research on Rico came out.
By the time the pup was five months old, language training began in earnest.
"John Pilley and I would go to second-hand stores and just buy huge numbers of stuffed animals and balls and children's toys and so forth," Reid said. "And we would give each one a name and write down the name on each item in permanent marker so that we could remember what the name of it was and use it systematically with Chaser."
Over the course of three years, in sessions of four to five hours per day, Pilley and other trainers found that Chaser could identify every stuffed animal, frisbee and ball out of a colorful and growing pile of fun doggie toys.
She could also differentiate toys by categories, such as her 116 balls, and she could perform specific commands with select playthings, such as touching her paw to a certain ball, or fetching a particular frisbee.
And they trained her to do all this without offering any tasty treats.
"Chaser really, really likes playing with her toys and the social interaction of one of us taking one of her toys and throwing it up in the air and having her catch it," Reid said. "It is much more rewarding for her than a morsel of food."
The study, which appeared this week in the journal Behavioural Processes, published by the Amsterdam-based company Elsevier, shows Chaser has abilities that were left in doubt by the earlier work with Rico, such as the ability to discern commands from nouns and how to identify toys versus non-toys.
"Her learning and retention of more than 1,000 proper nouns revealed clear evidence of several capacities necessary for learning receptive human language: The ability to discriminate many nouns phonetically, the ability to discriminate many objects visually, a sizable vocabulary, and a sufficient memory system," it said. "Chaser understood that names refer to particular objects, independent of the activity requested involving that object. Thus, [the] concern that Rico may not have understood the difference between 'sock' and 'fetch-the-sock' is ruled out in this study."
Meanwhile, Reid said that he and Pilley are continuing to study Chaser, who is now six-and-a-half years old.
"We would like to know for example, does she really understand syntax, the order of words in a sentence? One experiment has to do with if we asked Chaser to pick up one object and place it on top of another object, will she always get that correct?" Reid said.
Comments will be moderated. Keep comments relevant to the article. Remarks containing abusive and obscene language, personal attacks of any kind or promotion will be removed and the user banned. Final decision will be at the discretion of the Taipei Times.