Yoko and fans mark 30 years since Lennon's death
Vigils were held around the world on Wednesday to mark the 30th anniversary of the murder of John Lennon, as new extracts from his last interview show the former Beatle scoffed at fans who worshiped "dead heroes."
From New York to Liverpool, Havana to Prague, fans gathered to lay flowers at memorials, sing classic Lennon songs like Imagine and light candles in memory of their idol.
In Tokyo, Lennon's widow Yoko Ono, who was with him when he was shot, marked the anniversary with a charity concert, saying the world still had so much to learn from his life and his songs.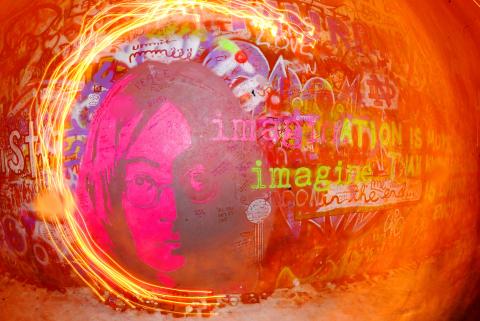 Candles are seen in front of a wall memorial in Prague to commemorate the 30th anniversary of John Lennon's death. Fans in several cities across the world held vigils to mark the 30th anniversary of the murder as part of a global day of celebrations of the music icon's life.
PHOTO: AFP
"Today, on this painful anniversary, please join me in remembering John with deep love and respect," she said in a Japanese-language tweet, as she prepared for the annual show.
Near the luxury Dakota apartment block in New York, where Lennon was shot four times in the back by a lone gunman in the evening of Dec. 8, 1980, hundreds of fans gathered at the Strawberry Fields memorial in Central Park.
"For me, he was the spirit of peace," said Kaoru Shimizu, a Japanese woman who joined others who had arrived from around the world to mark the day here.
An Argentine couple at the vigil had arrived on their honeymoon in the city a day after Lennon was shot, and had returned on this cold, clear winter day with their family to pay respects.
"We're so moved to be here, and lucky to be here with our three daughters, 30 years later," Romulo Audenci said at the somber gathering, where fans sang classic Lennon tunes like Don't Let Me Down and Eight Days a Week.
In the former Beatle's hometown of Liverpool in northwest England, the focus of the memorials were the Peace and Harmony monument unveiled earlier this year in memory of Lennon, who died shortly after his 40th birthday.
Fans lit candles and sang songs to remember the life of one of the port city's best-loved sons, whose songwriting relationship with Paul McCartney produced some classic songs.
"Despite his short, 40 years of life, he gave so much to the world. The world was blessed with fortune to have known John," Ono said in a message on Twitter.
Comments will be moderated. Keep comments relevant to the article. Remarks containing abusive and obscene language, personal attacks of any kind or promotion will be removed and the user banned. Final decision will be at the discretion of the Taipei Times.