Greek protesters confront government on economy
ANGER Amid a deepening recession and high rates of unemployment, unions are angry at deep spending cuts and consumer tax hikes, and fear new cutbacks
The Greek government is planning no new austerity measures as part of efforts to pull the country out of debt, Greek Prime Minister George Papandreou said yesterday, one day after protesters marched against the government's current austerity measures.
Papandreou said the government was on track to meet targets for reducing its deficit by nearly 40 percent this year.
"We will not need any new measures," he said, and reiterated that Greece did not plan to restructure its debt — a move that he said would have been "catastrophic" for the economy.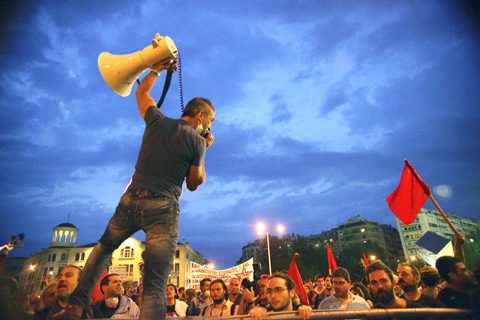 Protesters gather outside the International Trade Fair during an anti-government rally in Thessaloniki, Greece, on Saturday.
PHOTO: REUTERS
Papandreou acknowledged that revenue shortfall was a problem, but said that overall "we are ahead of our targets."
"I have every confidence that, by the end of the year ... we will have achieved the 40 percent reduction of deficit," he said.
Greece narrowly avoided bankruptcy in May when European countries and the IMF gave it 110 billion euros (US$140 billion) through 2012 in emergency loans. The money came on condition Athens make deep cutbacks — moves that have angered unions.
Papandreou promised on Saturday that the tax rate on companies' retained profits would be cut from 24 percent to 20 percent next year, providing what he called "a strong incentive for investments and competitiveness."
He also pledged to open up restricted professions — including truck drivers, notaries, taxi drivers and pharmacists — deregulate the energy market, settle on privatization targets, facilitate major investments and simplify business licensing procedures by the end of this year.
About 20,000 people gathered in three separate protests in the northern port city of Thessaloniki ahead of Papandreou's speech.
They were accompanied by 4,500 police on security duty.
Minor clashes broke out as scores of youths attacked riot ­police with sticks and were repelled with tear gas. No arrests or injuries were immediately reported. Police pre-emptively detained 20 people, including 13 from Spain, Italy, Britain and Portugal.
The center-left government says its daunting task of reducing the budget deficit from 13.6 percent of annual output last year to 8.1 percent this year is on track, and has pledged to maintain the pace.
The transport ministry announced plans on Friday to overhaul the state-run rail company — with debts of 10.7 billion euros — by cutting payrolls and rail services. About 40 percent of its 6,300 workers will leave and be offered other public sector jobs.
Greek Finance Minister George Papaconstantinou said on Friday that reforms would extend to other state corporations.
"As a society, we have shown that we understand the problem," he said.
However, amid a deepening recession and high unemployment, unions are angry at this year's deep spending cuts and consumer tax hikes, and fear new cutbacks. Heralding a new round of unrest, railway workers are planning strikes against payroll cuts and some unionists have threatened to burn privately operated trains.
State revenues are increasing at a lower-than-projected rate and the government has said it may have to increase sales tax rates on a broad range of goods or raise heating fuel costs.
Papandreou vowed to crack down on rampant tax evasion, but at the same time said he would offer businesses the opportunity to settle tax disputes with the state out of court — and accelerate ­judicial procedures. Out of the ­estimated 400,000 cases pending in Greek courts, 150,000 concern tax disputes.
"We can change the course of history and make an opportunity out of the crisis," Papandreou said, adding that Greece would seek to draw investments worth 44 billion euros in environmentally friendly projects by 2015.
"Our choice to go from an economy that for years was based on consumption and credit to a productive model based on green development is of strategic importance," he said.
Comments will be moderated. Keep comments relevant to the article. Remarks containing abusive and obscene language, personal attacks of any kind or promotion will be removed and the user banned. Final decision will be at the discretion of the Taipei Times.