Blind candidate Kawai has vision for Japan
BROAD SUPPORT One academic has said that Junichi Kawai could be a 'next-generation' politician, capable of appealing to disabled and able-bodied voters
Japanese political newcomer Junichi Kawai has been unable to see since he was 15, but he does have a strong vision for his country, which heads to the polls for upper house elections on Sunday.
The 35-year-old Paralympic gold medalist and former teacher is running on the ticket of Your Party, a small opposition group launched last year.
Kawai has already achieved fame in Japan, for winning five swimming gold medals at the Paralympic Games of 1996, 2000 and 2004 — a feat which was depicted in a movie entitled Seeking Dreams.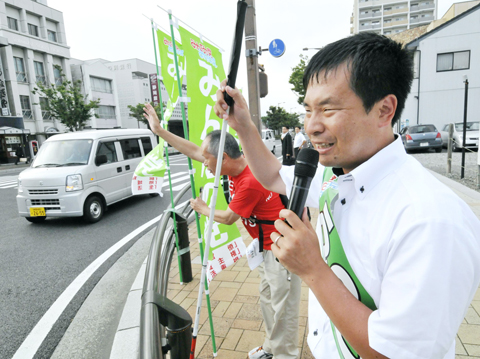 Junichi Kawai, who lost his eyesight when he was 15, talks to voters during his election campaign for the upcoming Upper House election at Shizuoka city, 150km west of Tokyo, on Tuesday
PHOTO: AFP
But he says he does not want to focus on his disability, instead seeking votes with his ideas for revamping the country, which he believes has lost confidence and suffers a lack of political leadership.
"I don't want sympathy at all," Kawai said after delivering a campaign speech in Shizuoka near Mount Fuji, a district where he is vying for one of two seats against five other candidates.
Instead he has called for reforms of the state bureaucracy, in the education sector and for economic growth.
"I'm just an ordinary schoolteacher who wants to create a society where children can have a dream," a smiling Kawai said, holding a white cane in one hand and a microphone in the other.
"Disabled or not, people are having difficulties in their daily lives," said Kawai, who married four years ago and has a baby son.
"The country is in a pinch, but it can be seen as a chance for reform. I have changed a problem into an opportunity in my life. I'm a man of change," he said.
While disabled politicians are still rare in Japan, Kawai said he has felt inspired by Britain's former education and home secretary David Blunkett, who has been blind since birth.
"I heard that the British minister ordered his bureaucrats to tell him only the essence of a document," Kawai said. "It is the bureaucrats' job to make the policies understandable."
Kawai said he even sees his disability as an advantage.
"I'm blind, but because I'm blind, I can sense what is important," Kawai said. "I can't see things, but I have ears to listen to people's voice. I can feel and share people's pain."
Kenji Eda, secretary general of Your Party, said Kawai "has been really engaged in education. I'm sure he can tackle education reforms."
Voters at the campaign stop showed warm support.
"I have high expectations of him because he can represent the viewpoints of the disadvantaged," said Etsuko Tanaka, a 45-year-old housewife.
Local media say Kawai is fighting a close contest in the election, which nationwide is a test for Prime Minister Naoto Kan, who took office last month and is trying to achieve full control of parliament.
Kan's Democratic Party of Japan is reportedly sounding out chances of a partnership with Your Party, which is enjoying a surge in public support for its hard line against the nation's powerful bureaucracy.
Experts say disabled politicians in Japan have concentrated on realizing greater rights and opportunities for the handicapped.
"But Mr Kawai's political stance is not just based on conventional support for the disabled," said Jun Ishikawa, professor of sociology and disability studies at the University of Shizuoka.
Kawai could be a "next-generation" politician with a disability, capable of appealing to both disabled and able-bodied voters, Ishikawa said.
Comments will be moderated. Keep comments relevant to the article. Remarks containing abusive and obscene language, personal attacks of any kind or promotion will be removed and the user banned. Final decision will be at the discretion of the Taipei Times.